The food delivery industry is growing remarkably using app development services. Several on-demand apps have been developed in the relative niche in the last decade. Clients are searching for a Food Delivery App Development Company that could assist them in building a mobile app like Talabat. It is an online food delivery app based in Kuwait. Many start-ups are getting encouraged by such on-demand apps.
Restaurants and bars represent an evergreen business model. People won't stop eating anywhere in the future. The human body requires frequent or at least occasional diet, or else can't survive long. Companies like Talabat are serving even in the global lockdown situation generated by novel Coronavirus. That's why clients are finding tremendous business opportunities in this sector and approaching a Food Delivery App Development Company.
Through this article, we'll determine the various features and aspects that make Talabat an ideal app for both restaurant businesses and food lovers in the middle east. Based on that analysis, we'll specify the process, tips, and cost involved in building a successful food delivery app like Talabat. Let's get started!
About Talabat & Its Incredible Features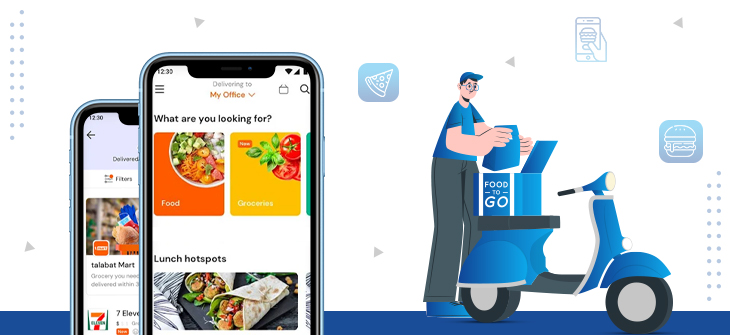 Talabat is indeed a notable example of a reliable on-demand food delivery app in the middle east region. Established in 2004 the company is providing online food delivery services to nearly 10 countries including- Kuwait, UAE, Saudi Arabia, Jordan, Oman, Egypt, Bahrain, and more. Start-ups in the UAE, Jordan, and other countries approach a Food Delivery App Development Company to get ideas about Talabat's business model.
Earlier Talabat had no mobile app and conducted phone call service for food delivery. Now, things have changed for the entire world following the smartphone and mobile app technology. Companies are looking for a Food Delivery App Development Service to target local and global restaurants, hotels, and audiences. Online food delivery businesses can bring them impressive ROI against their investment plan.
Enlisted are some incredible features about Talabat app that new app companies and start-ups are following:
1. Multiple Versions
The app is distributed among different versions based on the Buyers, Sellers (Restaurants & Hotels), and Delivery Staff. As such, the app is targeting 3 segments of audiences. It simply reflects the On-Demand App Development strategy. Hence, the demand for such app businesses is increasing among the clients.
2. Various Payment Options
The payment gateway integration feature is getting popular among various business niches. Even online education and service provider apps are also using this feature to get enough conversions out of their user traffic. It is a perfect way to monetize the mobile app. That's why businesses are looking for a Food Delivery App Developers.
3. Delivery Management
Delivery management consists of other sub-features like- Accepting/Rejecting Buyer's Request, Tracking the Drop Location, Tracking the Pick-Up Point, and more. It helps both merchant and delivery staff to collaborate regarding a customer order without any problem. If the customer is getting an issue getting his/her order, the delivery management decides what the delivery staff and merchant need to do.
4. Real-Time Order Tracking
This feature allows customers to track their order from the pick-up point to the delivery point. If the order is taking longer than usual to reach the delivery point, the customers can cancel and claim a refund in case of advance payment. This increases customer trust in the mobile app company. The feature is gaining popularity regarding On-Demand App Development projects.
5. Multilingual Functions
A Food Delivery App Development Company adds multilingual functions in case the client wants to target different regions. These functions target the regional tastes and preferences of customers. Customers can filter results depending on their language, age, likes, and dislikes.
Other food delivery companies should also approach the relative Mobile App Development Service and introduce more innovative features!
Building a Food Delivery App Like Talabat- Process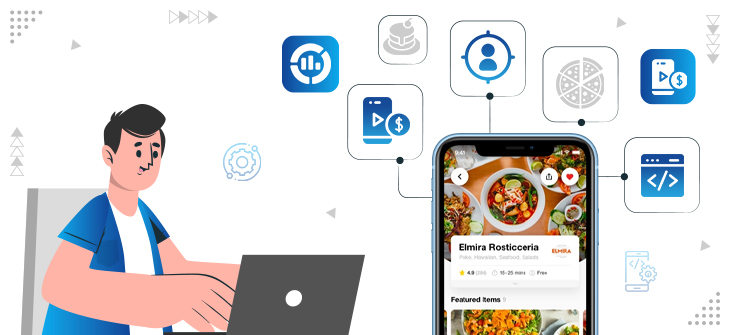 Moving further you need to recall an ideal process to generate a Talabat-like app. Following an appropriate procedure, you can save your time, effort, and expense for building the food delivery app. Here's what you need to do:
1. Market Research
To build a food delivery app like Talabat you have to study its market status. Every successful mobile app contains specific functions that fulfill its user demand. That means you need to approach its target audience. If you're able to provide what the same audience is looking for, you can initiate your app-building project right away.
2. Decide your Niche
Apart from niche, you can build your own sub-niche. That means you can target a sub-audience with your food delivery service. For example, you can build a food delivery app that only focuses on non-Vegetarians in the region. So, that's a sub-niche of the food delivery industry. However, make sure to share your plan with the Food Delivery App Development Company you've selected.
3. Determine the Monetization Model
Monetization has different sources. The developers need to select the sources as per client prerequisite. Every food delivery app deserves to be monetized because it sells various products in the form of service. A monetization model can be based on- Commissions, Ad Campaigns, Subscription & Membership fees, Restaurant Sponsorship, and more.
4. Determine the Cost
Now comes the challenging part. The cost of building a food delivery app like Talabat can be challenging for a start-up company as it requires many customizations and personalization. It means the developers need to introduce a medium-complex design. You may start with a simplistic design and the relative app components in the beginning.
5. Select a Reliable App Development Company
When you know how much you're ready to spend on your app-building project, approach a trusted Food Delivery App Development Company. The company will offer you their terms depending on your project size and budget. The companies also negotiate regarding specific projects and client requirements.
Wrapping Up
Furthermore, the clients also discuss specific features and functions with the development team before getting started. Better communication leads to favorable app-building outcomes.Connect with the ideal Food Delivery App Developers and share your vision.