GoPro Quik is a video creation and editing app by GoPro Inc. it is used by professionals to edit and create a video on mobile devices. It is one of the most powerful tools with more than 80+ templates to help users with the features like automatic video stabilization and advanced editing controls. 
Users can quickly create stunning videos by using footage and photos on their devices. GoPro Quick is amazing to come up with amazing videos that represent shareable memories in a more professional and polished way. 
Why is GoPro Quik Video Editor popular?
Video editing apps like GoPro Quik are popular apps because of their powerful editing tools. It allows users to easily add music, trim clips, adjust color settings, and more. Users can perform quick edits with automated editing options. It has an interface that is easy to use and lets you create something unique. Users can produce professional videos in a few minutes. Professional video creators get integration access with apps like YouTube, Facebook, and iCloud making sharing and creation easy. 
Ultimately, GoPro Quik is an excellent way to get skilled in creating stunning videos on mobile devices, desktop computers, or laptops. Here in this blog, we will discuss the cost to make a Video editing app, as videos appear like pros when created using it. 
What are the benefits of GoPro Quik Video editing apps?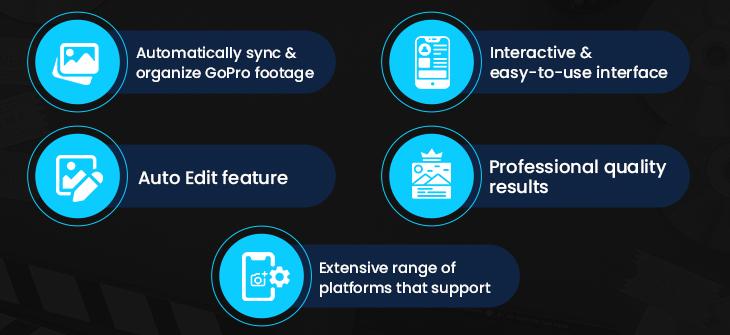 Automatically sync and organize GoPro footage:

You can easily manage and organize all the GoPro media using the Quik app. It smoothly gets you access to the videos created by the camera. It has sync over multiple devices so that one can easily collect videos automatically available on different devices associated with other accounts. 

Interactive and easy-to-use interface:

The user interface of the application from scratch makes it easy to edit videos intuitively on each level. Whether an experienced editor or a beginner can use Quik to create videos and get familiarized with its features.

Auto Edit feature:

It is a powerful feature that allows users to select clips and drop them in the application together to get edited together. The app gives you the cinematic experience of editing without needing to make changes in individual clips for hours with different combinations that sometimes work and sometimes do not. The app introduces visual and musical combinations in the video.

Professional quality results:

GoPro Quik gives your professional outcomes just like a professional videographer does. Users would thanks to the features of Quik, the final product looks completely like someone has given hours doing that stuff.
5 . Extensive range of platforms that support: Quik supports all types of operating systems including Windows, Android, and macOS devices. This way users have plenty of options to start creating and editing the video content. 
Limitations of GoPro Quik Video Editor?
Limited File Formats:

GoPro Quik supports limited file formats for both videos and photos, including MOV, M4V, and HEVC/H.265, MP4, PNG, and JPG. It can be quite limiting for users who have different file formats and looking to convert them.

Lack of Advanced Editing Features:

Applications offer basic editing features like trimming and cropping clips. Color correction or audio mixing is a certain feature that is available on advanced

video editing software

only.

Limited Support Options:

The official support page provides very few of the information to troubleshoot problems, or get in touch with customer service representatives.

Unintuitive User Interface:

The interface should be easy to understand overall. A few sections are clunky and not optimized for quick navigation between settings and menus. 
How does a website or app like GoPro Quik Video Editor make money?
GoPro Quik makes money through in-app purchases like additional features, stickers, filters, music, and themes for users and their creations. GoPro Plus subscription service offers access to exclusive content and premium tools. The company earns as well as partnerships with other companies and revenue through advertisements that are looking forward to featuring their services and products in the video clips. 
Why do we need another website or Video editing app like GoPro Quik?
A website or app like GoPro Quik is created to address the editing needs of the users. Having an alternative to GoPro Quik is introduced to provide users with more options. An alternative potentially offers different features and tools that suit the user's specific requirements. Competition between apps and websites that drive innovation helps developers to develop the best possible products and release them in the market.
What are the best technologies to develop an app or website like GoPro Quik Video Editor?
Video Editing Software:

Final Cut Pro X, Adobe Premiere Pro, and Avid Media Composer are a few of the best video editing software used for creating and editing videos. 

Image Processing Libraries:

Scikit-image and OpenCV are extremely powerful libraries used for image processing that are used to create features like object detection, facial recognition, and photo filtering in your website or app.

Mobile Platforms:

iOS (Swift) and Android (Kotlin/Java) are one of the most popular mobile platforms. Access to APIs allows developers to integrate many features like GPS location tracking, camera control, audio recording, etc into the applications easily and quickly.

Cloud Storage Solutions:

Amazon S3 is a great cloud storage solution used to store a huge amount of data with complete security with minimal effort by the developers. The storage solutions introduce high-scalability options to increase the dynamic capacity as required without any type of disturbance by the team members. 
What are the daily operational costs for Video editing apps like GoPro Quik?
Hosting Costs:

Website or applications depending on the complexity and size in terms of hosting costs has a wide range from a few dollars per month to hundreds of dollars per month.

Web development/maintenance fees:

GoPro Quik is an extremely simple app. Maintenance and

web development

fees should be at a minimum if any at all when talking about the

cost to make a Video editing app. 
Advertising/marketing fees:

The cost of marketing and advertising depends on the goal of the campaign. Small campaigns are easily made and cost thousands of dollars every month. 

Customer service & support:

Quality customer support and services requiring resources like automated or personnel systems that will come with associated costs depending on the type of costs one is opting for.

Data storage & security:

Data security and storage in essential elements running online businesses nowadays. Cloud-based solutions typically charge based on the usage as well as different additional features, for example, backup services, etc.
Conclusion
The major resources introduced in the development industry help with top-notch features. Mobile app development companies take into account the top features and accessibilities in the applications. Video editing apps are loaded with featured benefits and hence, where the client can select features it needs to integrate.