App designing is as crucial as app development and can't be ignored anyway. If you're developing an app yourself, you should make sure of perfect app design assistance. Moreover, if you hand over an app-building project to an mobile app development company, the company must collaborate with a potential app designing team. UI UX development is the leading aspect of mobile app designing. Every mobile app design is divided among UI and UX.
Where UI represents User Interface, UX stands for User Experience. Mobile app design determines the level of user interest and engagement. If the design is not promising, the users won't stay long on the application. Without proper UI/UX development, the overall app development process is incomplete. These designing operations play an important role in the development process.
That's why developers make it a part of their project wireframe. An incomplete wireframe can't lead to a fine outcome. A mobile UI design and UX design can bring more traffic and conversion for your products and services. That's how you can grow your business recognition among new users and target customers over a period.
Through this article, we want to highlight the importance of UI UX Design for an App Development Process and how you can improve your mobile app product by undergoing a likewise process. Let's proceed!
What is UI/UX Design?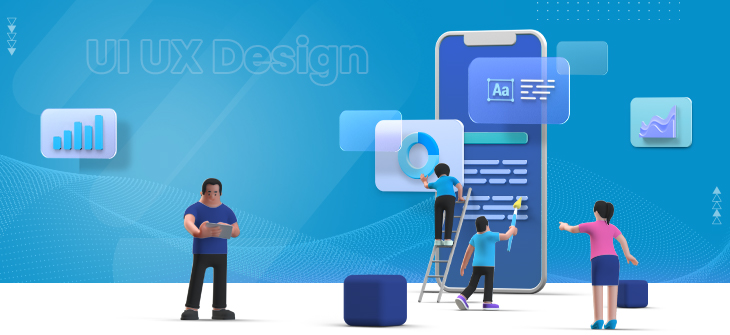 As discussed in the opening segment, UI stands for User Interface and UX stands for User Experience. User Interface consists of various elements that constitute the overall appearance of your mobile app. These elements include App Color Distribution, Icons, Fonts, Navigation Menu, Illustrations, Brand Design, Layout, Widget Styles, etc. A compelling UI/UX development is worthless without a potential user interface.
On the other hand, is the UX design that represents components promoting a good user experience. These components include- Dropdown Menus, Buttons, Radio Buttons, Toggles, Password/Text Space, Space for Form Filling, Check Boxes, Date Pickers, etc. So, basically, a mobile app UX Design promotes user actions and participation. It is quite different from the mobile app UI design as it doesn't pay attention to the appearance but provokes action.
How Important is UI/UX Design for App Development Process?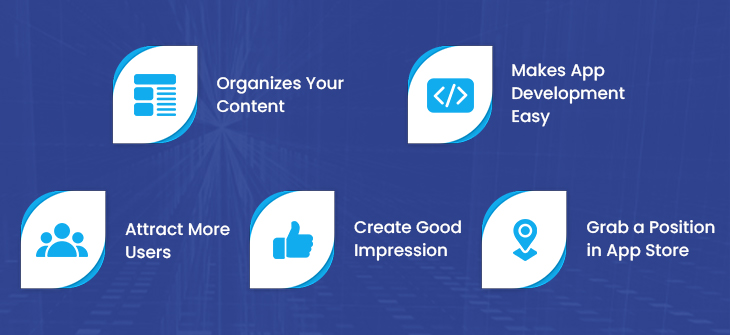 UI UX design is an inseparable part of an app development process. You can't deploy a mobile application without a design structure. You have to introduce a design and let the users take action on your app to increase its worth. In this segment, we'll highlight the importance of UI UX development along with the app development procedure that you're supposed to follow. Here's why UI UX designing is essential for your app development process:
1. Organizes Your Content
Have you decided on your mobile app content so far? If not, you can't differentiate your mobile app from the competitors in the market. Every mobile app has got a content distributed among various forms. Before app deployment, the content needs to be perfectly organized for a great user experience. That's why UI UX design operations are important.
2. Makes App Development Easy
These days, designers make use of various online tools to improve the design process. They stay away from complications and focus on creativity and innovation. Consequently, the app development process becomes time-saving and easy to execute. App UX Design often takes longer to be executed but is very crucial for your app development.
3. Attract More Users
More users can bring better ROI against your app development process. An app development process requires a specific investment plan. That's why higher user engagement is essential for business growth. To attract more users, you need to pay attention to your app design operations. You must appoint an experienced design team to your app development project.
4. Create Good Impression
A good app design can create a good impression for your app business. As a result, your app development process generates an effective outcome for both clients and users. If you provide an app-building service, you can create a fine impression before your top clients. You may also create a good impression regarding your freelancing services if any. Therefore, UI UX development is a must for your app-building process.
5. Grab a Position in App Store
You must grab a fine position with your mobile app in the Google Play or App Store. A proper app designing operation can help your app get such a position on the app store lists. It may take some time initially, but your app development process will emerge as a success. So, you should definitely add a good app designing service to your app development process.
Wrapping Up
At last, we'd recommend you to make sure if your app development service providers collaborate with a reliable UI UX development team or not. You can also hire a mobile app designer team for effective results if having a sound budget and investment plan for your project.