On average, users need at least nine apps in a day.  You can have an idea of how hard it is to be one of those most used applications. It is almost impossible to do so, still few apps like Snapchat and WhatsApp proved that they can replace messaging and cameras almost.
At the same time you can replace them or add one more app to the list of platforms they visit every day. We can see new online communities, finance apps, and social media platforms are released every month, and they all are struggling to build a robust customer base. Still, it is the beginning of a technologically advanced era, and the right approach can make your app a habit of the users. Here are the top methodologies working over the app marketing ideas, listed in this latest blog:
Facts:
69% of people use the internet while they're on the go. 

91% of the total internet users worldwide are active on mobile.

80% of consumers download a mobile app after watching a video 

Google is the primary search engine for mobile devices worldwide, at 95.23%.

73% of consumers believe in video content most for learning

Global mobile app revenues are expected to reach $935.2 billion by 2023.
What is App Promotion?
App promotion is a set of practices to promote mobile apps including through PR, website, social media platforms, app store optimization (ASO), influencers, search ads, and traditional word-of-mouth. Advertising an application asks for efforts and practices along with a timeline. 
App Promotion has Three Main Stages:
The Awareness or Pre-launch Stage: This stage includes ways to market your app conducting market and competitor research, creating your user personas, designing your site and landing page, and finalizing your content and social media marketing strategy. While doing this all the processes one needs 
The Acquisition Stage: Here you perform various paid advertisements and promotions on the play store and app store, to acquire users on targeted and vast levels. This comes under the app store optimization practices. 
The Retention Stage: it is the last stage and equally crucial to the first one, here one is responsible to retain customers with an amazing user interface and posh notifications at regular time intervals.
It is an important practice to build a robust user base, here the iOS and Android applications are marketed on different levels. App owners put on copywriters and marketers to perform well with the development companies. You can see the iOS user community is quite affluent and loyal to their devices as they seem to boast a higher satisfaction from the overall experience.
On the other hand, android users are not very specific to the particular applications, and android being open source lets users try more different applications. 
App promotion is extremely important to onboard new users, get more sales, and increase your market share. Lack of proposition can add your app with the rest of the 99.5% of apps that fail.
Need of marketing a mobile app
Mobile App Marketing improves branding and supports scalability. One can boost the brand visibility in the online market and get a robust market reinforced by efforts and trust. Marketers use relevant channels and engaging storytelling to help out brands to catch the eyes, gain prominence, increase conversions and generate revenue. 
10+ ways to market your mobile app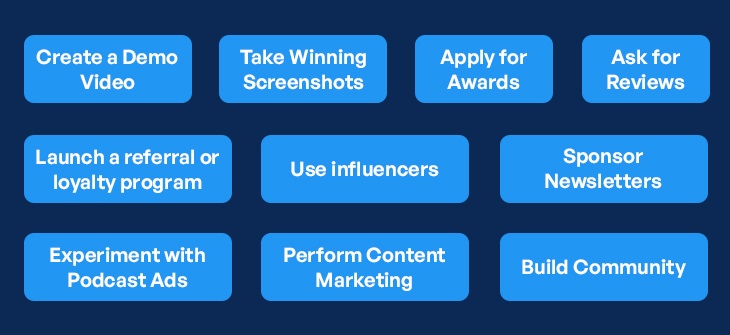 Here we are listing and analyzing the top marketing tactics telling how to promote mobile apps. You can opt for the one that suits to availability of resources and budget:
Create a Demo Video
Visual content is the most effective way of advertisement. 80% of consumers download a mobile app after watching a video. Around 73% of consumers prefer video as a tool for learning whether about a product or service. Video is the perfect avenue to increase retention, the number of app downloads, and reviews. Things to undertake while creating the video include proper engaging content, presentation, and highlights of the app benefits that make it unique from its rivals. 
Take Winning Screenshots
After watching the video, the second thing that they believe is the visual presentation of the actual app interface that makes it the best answer to how to advertise a mobile app. If you are providing a proper screenshot of the applications highlighting the app functionalities, then it is good to go ahead. Good visuals are significant as video sometimes does not load but images can. Visual elements like captions and emojis work well to keep the user engaged. 
Apply for Awards
It is one of the super visible elements that enhance the app's presence and build trust in the users. All the top-rated applications become top-rated with the support of badges and recognition by the leading organization that rates and reviews applications based on a few metrics. External accolades provide a ton of feature prediction press, exposure, reviews, and downloads.
Ask for Reviews
You can ask your users and customers to review your application on different platforms specifically on the platforms like Play Store and App Store. You can do this manually through in-app feedback or a quick automated survey. Once you get to know about the happiest users, you will get inspiration to know the most demanded features and implement them. 
Launch a Referral or Loyalty Program
Referral marketing is the strongest resource, users listen to their mates and friends more than a company speaking of its products or services itself. The most powerful marketing tool makes sure about the popularity and a loyal customer base. You can offer in-app cash or coupon rewards to your users to refer to their friends.
Use Influencers
You can contact the influencers that will help you with popularity, marketing, and referrals. Many or even almost all, influencers and celebrities are involved in paid partnerships and promote new products or services in the market. You can build relationships with the user's community if you approach the influencers as a way to enter the market.
Sponsor Newsletters
The brand newsletter keeps the users and other audiences in connectivity with the companies. You can target B2B marketing strategies, by contacting the CEO, presidents, and other seniors of any company. The newsletter contains the list of achievements, new launches, and other stuff of the company. It is a great way of letting businesses know more about the company and impress them with mobile applications.
Experiment with Podcast Ads
Podcasts and ads are a successful methodology helping out the leading applications to reach the customers and users looking for the same applications. This way of application promotion is the best and is very cost-effective to promote applications. The Podcasting industry is growing day by day in revenue and popularity. It helps you to get more promotion and brand awareness.
Perform Content Marketing
Content marketing is one of the most powerful ways to get in touch with the leading advancement responsible. You can build an image in brand promotion and marketing on social media by posting on popular marketing platforms like infographics, LinkedIn, Twitter, Instagram, Pinterest, and YouTube videos. You can create tons of value-driven content, such as shopping guides, ebooks, long-form blog posts, white papers, and infographics.
Build Community
The approach used in digital marketing has the strength to engage an entire community and users get in touch with the companies to use applications. You can interview industry experts, feature influencers, reward users, or just share your content on these channels.

Key Takeaways
Your app might become extinct if you don't know how to promote a new mobile app
or will not keep marketing your application from time to time. Here are the best practices you can do before approaching the app promotion practices:
Add engaging video, clear screenshots, and a detailed app description to Optimize your app store page.

Apply for awards to increase your reputation and chances of going viral by collecting badges.

Use newsletters and podcasts to enhance brand awareness. 

Try investing in content marketing as much as possible.
Conclusion
You can build a stronger community that makes you a brand from a company or firm. Later you just sit back and relax, you earn and need to just manage your empire. Build your online community to ensure better engagement. You can employ the best marketing ideas, this will be a one-time effort, so carefully choose your mobile app development company and other services for the project.