Food and beverages are among the top 10 business industries in the world. Food businesses hardly get failed even in local areas. Everyone eats food and therefore restaurant businesses don't target a specific audience. They have a great number of customers to deliver their services. So, Restaurant Mobile App Development is gaining fame among new companies and start-ups. These app companies can follow multiple ideas to facilitate the users.
If you're also planning to open a restaurant business but are not sure about the right app development strategy, you will fail soon after the app launch. Start-ups are usually unaware of the competition and challenges associated with a specific market. Therefore, they should come up with a unique concept and generate market disruption for a specific period.
Restaurant Mobile App Development can bring perfect ROI as per the business investment, however, implementing a great idea should be your priority. In this article, we're going to talk about 9 trending restaurant business app ideas that you may follow and choose the best one considering your business requirements. Let's proceed,
Need for New Restaurant App Ideas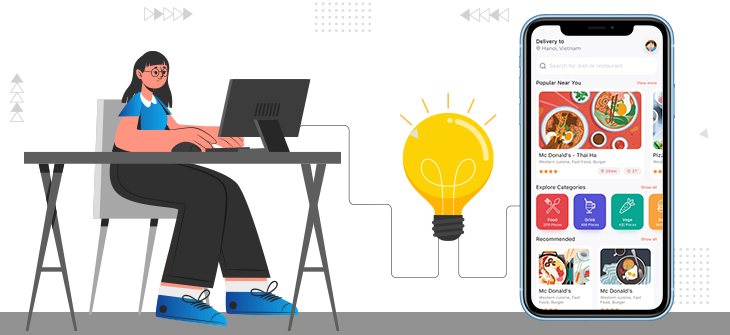 The restaurant business has bigger competition. Every city or small town consists of hundreds of restaurants. Despite facing huge competition, every restaurant business manages to attract ample customers regularly. That's because they have new ideas to reach out to new customers over time. So, Restaurant Mobile App Development agencies keep suggesting new ideas to clients to create higher ROI in the future.
Here's why you need new restaurant app-building ideas:
To disrupt the market
To target new audience and modern customers
Compete effectively with newcomers or experienced
Get noticed for your new products and services
To raise business reputation on SERPs and app stores
Open new opportunities for business growth and profit
A Restaurant App Development Service keeps changing forms because of user trend and their changing tastes and preferences. You need to recall those changes timely and work accordingly modifying or creating a new app for your restaurant business.
9 Contemporary Ideas to Build Your Restaurant Mobile App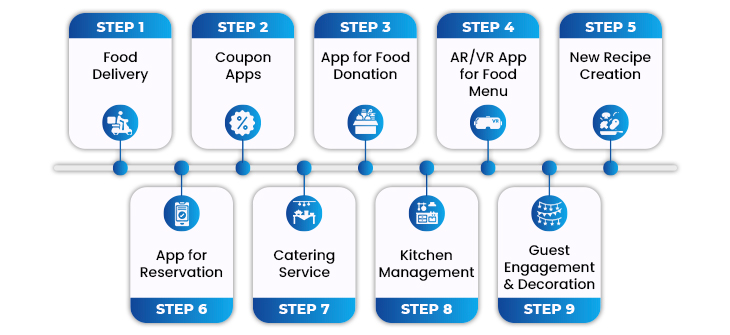 Creating a new restaurant app for your business could be complicated if you don't know where to head. Creating a wireframe of your app-building project is possible when you know the ultimate idea of your project. Likewise, Food Delivery App Building Solutions also require new ideas over time. In this segment, we'll talk about 9 amazing ideas that you can use to build your competent restaurant app. Mentioned below are those ideas:
1. Food Delivery
This idea has become quite popular in the last 10 years. Before that, food delivery was offered by a few popular restaurants worldwide. Food delivery apps are facilitating almost all ages and customers out there. People have multiple eating choices and they love to explore such apps providing several restaurant options in their local area.
2. Coupon Apps
Coupon apps are indirectly related to a restaurant business. These apps provide coupon codes using which the customers get attractive discounts on every food order they place. That's why customers are highly interested in using such apps. They keep finding the relative apps on app stores. Your restaurant mobile app sometimes needs a relative integration feature.
3. App for Food Donation
If you want to represent a non-profit cooperative organization through your restaurant mobile app, food donation is a perfect plan for your app-building journey. Food donation is organized by various apps around the world. Some of the leading apps in this context are- Flashfood, Food for All, Food Rescue Hero, Feedie, Food Cowboy, etc. These app companies are providing aid and support to prevent the wastage of food.
4. AR/VR App for Food Menu
It doesn't offer a written menu but a virtual menu that raises user interest in a specific cuisine from a particular restaurant. Various Mobile App Development Companies are introducing AR/VR integration technology through their client or personal projects. The sale of AR/VR devices is increasing worldwide and here's your chance to come up with a new app-building idea.
5. New Recipe Creation
You can also build a specific app to train and educate your restaurant staff. Recipe creation apps can help your restaurant trainees and newbies improve their hands in cooking and do certain experiments when the guests and customers are not around. These apps can surely upgrade their skills and experience to a whole new level and bring your restaurant the best customer reviews in the city.
6. App for Reservation
If you have a five-star restaurant or hotel, you can create a special app for reservations to offer your top guests and customers. Represent your hotel or restaurant logo on the app to let your customers remember you for longer. It can help a new business grow exceptionally, but, make sure that you've got a limited audience to target in this case. Contact a trusted Restaurant Mobile App Development agency to share relative plans.
7. Catering Service
You can use this app to target both restaurants and customers in your city. Food businesses earn a lot from wedding ceremonies and receptions. Moreover, the demand for catering is very high in other social gatherings like Birthday Parties, Retirement Parties, College Reunion, and more.
8. Kitchen Management
You can use such apps to build a new restaurant, its design, and overall organization. Kitchen Management Apps are often used by chefs and cooking staff for maintenance of the kitchen from time to time. You can consult your Restaurant Mobile App Development provider to add specific features to such an app.
9. Guest Engagement & Decoration
Food decoration is an art and is widely considered by custom cake companies and five-star restaurants. By learning the relative skills you're cooking or bakery staff can prepare the best cuisines for your top guests. A good presentation of food creates a perfect first impression regarding your restaurant.
Final Thought
A good restaurant app can bring you exceptional profit and ROI for your investment plan. That's why you should decide on the best idea for a restaurant business you can provide to both restaurants and food lovers. Consult with our experts to skyrocket your business.