Have to decide to develop a real estate app for your business? Then you're not alone and it is indeed an impressive plan for setting up an online business. The demand for property dealing is continuously increasing among new tenants, landlords, and investors worldwide. So, the demand for Real Estate Mobile App Development is also rising. Such mobile apps are attracting ample user attention and customer recognition on the app stores.
That's because Real Estate Mobile App Development is important for different types of users. First, are the tenants searching for a rental property, second is the property buyers, third is the property sellers and renting parties. After that, comes the property investors and companies looking for establishing a new workspace. The real estate app companies have got bigger market opportunities to utilize as such.
These app companies are also encouraging the industry to grow and new real estate firms to introduce the latest services. As a result, Real Estate App Building Services are getting popular among modern clients and users. To build a result-oriented real estate app, many start-ups and new companies are approaching top app development services locally and globally.
In this post, we'll talk about the leading features of real estate app and different ways you can build a profitable application. Let's get started!
Meaning & Features of a Real Estate App
A real estate app is used by all types of audiences and customers. Everyone deals in some kind of property at least once in a lifetime. Even if you're planning to settle down and work in a foreign location, you have to search for a rental or personal property. The property may also be an empty piece of land, where you want to build your home or office. So, Real Estate Mobile App Development is crucial for creating a mobile app.
The mobile app makes things easier and better for property buyers and sellers. These apps are providing various innovative features to the users. Nowadays, users can review the property without reaching the place physically. The new real estate apps are introducing a 360-degree virtual view feature to the users. Likewise, the developers are offering other futuristic Real Estate App Building Services to aspiring clients.
Here are the top features of a perfect real estate app: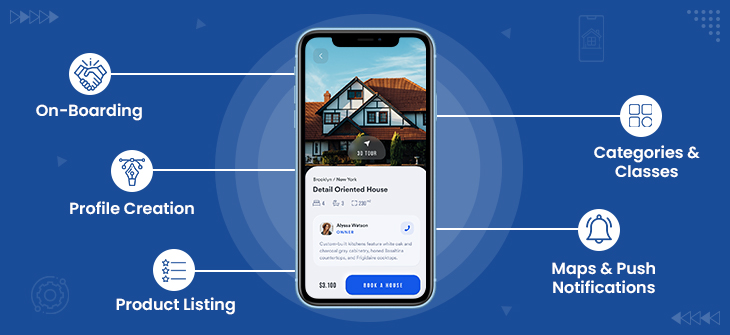 1. On-boarding
Whether used by a landlord, tenant, or buyer, the mobile app provides an online registration option to everyone. A registered app user can get all the benefits of the real estate app and may also get the latest discount and premium offers from the company. This feature includes- phone/mobile verification, social media, relative authorization, etc.
2. Profile Creation
Real Estate App Development also provides profile building functionality to landlords, tenants, and property buyers. Building a profile lets the users connect easily with others. The profile consists the information about the landlord, tenant, buyers, and sellers. It differentiates them from other entities on the mobile app.
3. Product Listing
Product means various types of properties. The app list down the properties according to the customer preferences. As such, companies also add various filters based on customer demands. It makes the user experience more personalized and they don't face any issue finding a specific property in a city, town, or village.
4. Categories & Classes
Properties are often distributed among 4 important categories- Residential, Commercial, Investment & Industrial. Most Real Estate App Development firms are required to target residential & commercial buyers and sellers. The demand for such properties is very high compared to industrial properties.
5. Maps & Push Notifications
No property could be imagined without maps. Maps are often used by property buyers. However, the sellers also use them to add their property located in a particular city or town. Another important feature is the Push Notifications and which lets the users stay updated on the latest properties in their locality or search results.
Other famous features include- List of the Favourites, Calendar, Cost Calculator, Communication, VR tours, Analytics, and more. The communication feature can be further divided into Chatting, Calling, Video Calling, etc.
Developing a Profitable Real Estate App for Your Business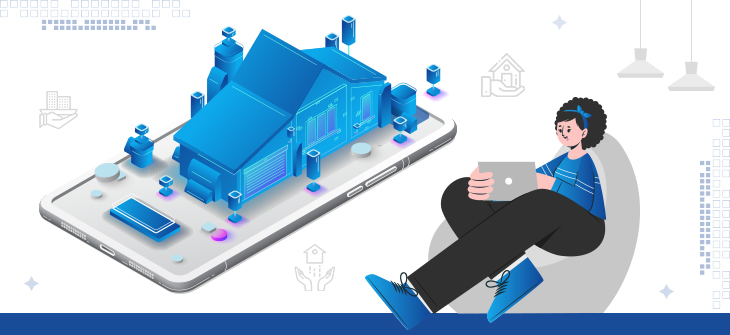 An online real estate business can bring exceptional ROI against the company's investment plan. However, the company needs to build a mobile app first. The app should target different audiences and users. You can hire a Real Estate App Development Company before implementing your app-building plan. Furthermore, you can follow the enlisted guidelines for creating a successful real estate app to represent your online business:
1. Select the Area to Serve
Real estate app businesses are usually based in a specific country, state, city, or town. The app company has to select its target region and property dealers associated with that region. For serving a bigger country (area-wise), the app company needs to establish its different branches and offices.
2. Make a Plan
Planning to build a real estate app must be futuristic and flexible. For this, you may request the developers to build a wireframe first. Real estate apps usually have different versions depending on the type of users. Therefore, the development process might get complicated. So, building a wireframe is very essential.
3. Add New Features
Even start-up firms can afford to add new features and functions to their real estate apps. If you're setting up a new business, such features can help you grow faster in the market. Real Estate Mobile App Development is becoming more innovative over time following the unstable user preferences.
4. User-Friendly Design
Designing is an inseparable part of app development. The app design represents the front-end development of the mobile app and must be user-friendly, no matter what business niche is being targeted. A user-friendly design consists of the corresponding UI and UX components.
5. Considerable Database
Further, building the right database for the users is of utmost importance. The database includes a list of various properties in a target country, city, or state. It is the main USP of a real estate app. The Real Estate Mobile App Development firm can't overlook this database.
6. Pre-Launch Testing
No app-building project is completed without testing. It helps app companies understand the user experience before launching the app. Consequently, they make changes to the app's functionality and features and don't compromise the future performance of the mobile app.
7. Marketing & Maintenance
After the app launch, the real estate company should note down the response of the audience by checking reviews and feedback. Some developers also provide post-app-launch maintenance and support for the client's app. They also provide online marketing and promotion for targeting more users.
Closing Words
In this way, a Real Estate Mobile App Development project is completed. It brings considerable profit and ROI if succeeds to impress the target users and property dealers. Adding the best features and promising design you may also catch the attention of your target audience and end up building a competent real estate app for your business.