Real Estate apps are very important for tenants and landlords who want to get into a deal together. These apps are highly secured and highlight verified profiles who are serious about buying or selling a property. So, businesses hire real estate app developers to build competent real estate apps for property buyers, sellers, and investors. These apps can be created in different versions or a single version to facilitate different audiences.
Moreover, the technological advancements are also encouraging developers to add new and innovative features to such apps. The impact of technology is on all types of apps. Users don't prefer to go with outdated apps and keep searching for the latest features and facilities. Therefore, before you hire real estate developers for your app-building project, keep updated on the latest technologies.
You should ask the developers regarding the deployment of the latest techniques. Some developers are not sure about new technologies or their deployment procedures. So, you should clarify your terms accordingly. A mobile app  development company usually stays updated to the emerging technology. In this post, we'll highlight such technologies and their impact on the future real estate app businesses.
Impact of Technology on Future Real Estate App Businesses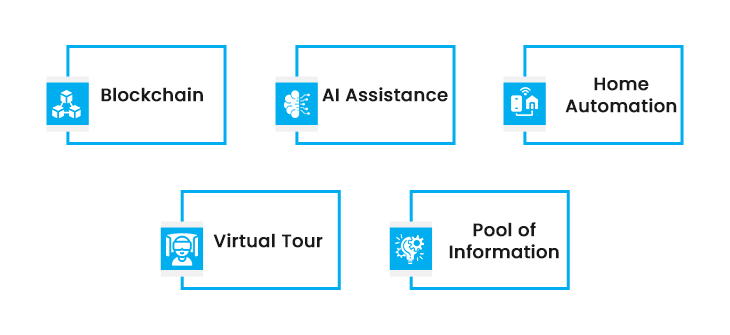 Future real estate apps will simplify the entire property buying and selling methodology. As a result, more people will start using such apps. Every mobile app starts getting higher user traffic after 6 months- 1 years of commencement. However, by adding new technologies, the app companies can bring more traffic within a few months of the app launch. Before you hire real estate developers, make sure of the leading technologies in the industry.
In this segment, we'll talk about these techniques and their impact on the future Real Estate App development approach as follows:
1. Blockchain
Real estate apps consist of various payment options for property buyers. These options are deployed to simplify the buying and selling process. Some buyers don't purchase the property before having a proper encounter with the same. Moving further, blockchain technology provides full security in the case of crypto transactions. If you want to buy a property in exchange for a cryptocurrency like Bitcoin, there's no alternative to blockchain.
2. AI Assistance
AI is going to help property buyers select the best option as per their budget, likes, and preference. Many real estate apps have started providing AI voice assistance to let the users filter the best results possible as per their taste and preference. Moreover, AI technology also provided likewise results related to the previous search of the user. A real estate development company aims to deliver the best property results through different approaches.
3. Home Automation
Future will promote more sales of automated homes and properties. Buying and selling of such properties are going to take place on the corresponding real-estate apps. Automation will add more value to the property and the buyers will be interested to purchase them. Consequently, property listing on mobile apps will be modified and include a new section to be explored by property buyers.
4. Virtual Tour
Many real estate apps are providing the futuristic 360-degree virtual tour facility. This facility doesn't let buyers leave their homes to view a property physically. It saves a lot of time for property buyers to make out a decision. In case, the buyer is busy and is not available to check the property physically, the seller may request him/her to take a virtual view of the property and it just requires an internet connection.
5. Pool of Information
The internet is itself the pioneer of many other technologies. It is the biggest source of information today, even present in the form of the dark web. Real estate agents can research a lot before initiating their mobile app model. When they hire real estate developers, they get an additional advantage. These developers can suggest many other ideas and concepts for their mobile app business to grow exceptionally.
Closing Words
Likewise, the technology is opening various doors of opportunities for real estate app businesses in the future. Both start-ups and experienced real estate agencies need a mobile app to enhance their work potential and compete efficiently in the market. There are thousands of real estate apps on Google Play and Apple Store. So, hire real estate developers and introduce your mobile app soon.