Smartphones and mobile software are representing the future of almost everything. The younger generation is adapting to online modes of learning faster. A gradual increase in smartphone users is spreading the craze of educational platforms online.
Apart from the academic perspectives, smartphones, and mobile applications have become a part of education and training. Elearning platforms are proven extremely valuable.
How are E-learning platforms the Future?
Accessibility
Mobile-based learning platforms offer a joyful and flexible learning environment. Mobile app development companies are developing an aura for successful learning processes. eLearning app developers allow students to learn from home and also state flexibility. Students can attend live lessons, also record and view them later.
High-Effective Learning
The medium of learning is an impactful way to determine the effectiveness of learning. The retention rate of educational data differs according to the type of content. Text-based content gives a 10% retention rate, video-based content gives a 20-30% retention rate, and the same goes for audio. Elearning platforms can deliver compiled forms of such content and improve the educational experience.
Learn at your own pace
Students are at their initial stage of learning, specifically talking about children. Their parents are worried about their proficiency in basics, as further learning becomes quite easy on self-studies. Elearning platforms are internet integrated and open up the doors of the web. Allowing students to explore new concepts and ways of understanding a single topic in simpler ways.
eLearning app development is a set of features and functionalities facilitating a great perspective of education. Structured and traditional school curriculum enables students to follow the e-learning program. Interactive learning and live classes, gamified concepts, and visually appealing graphics help in stronger knowledge attention.
Types of E-learning Platforms
We know what eLearning platforms are and all about their popularity. Educational organizations can build interactive platforms for their ease of convenience. There are plenty of different platforms that are available across the globe, listed here:
Online learning asynchronously
Elearning platforms offer a different state of flexibility, with student-centric features. Students can learn at their pace from any location at any time. The standard option for the time frame is free to adjust according to the student's comfort. This way it creates real-time communication and interaction between the learners.
Online learning synchronized
Synchronized learning introduces an interactive way of education. Such methodologies are way interactive to let people attend the sessions, with peer feeds and support. Recent eLearning platforms have shown this type of the adoption of the synchronized learning methodology.
Computer-managed learning (CML)
It is another term used for computer-assisted programs. Computers can easily manage and access the learning program and modify them accordingly. This type of system introduces the experience based on information databases. Databases contain information that can help students in learning the most important lessons. Educational institutions can store learning progress, enrollment, video lectures, rankings, curriculum, and other information in CML.
Instructions computer-assisted
This is a type of eLearning pattern that introduces two-way communication. Videos, text, and audio are part of the learning process by eLearning app developers. Learning becomes active using such eLearning software and is used in many schools. It is popular in both online and offline classrooms increasing the involvement of students.
Interactive online learning
Interactive learning focuses on the interaction between students and their teachers. It also allows online parent-teacher meetings. Participants can easily share messages, ideas, concepts, and learning material. Teachers can adjust teaching patterns easily.
The Main Reasons Why the eLearning platforms are so Popular!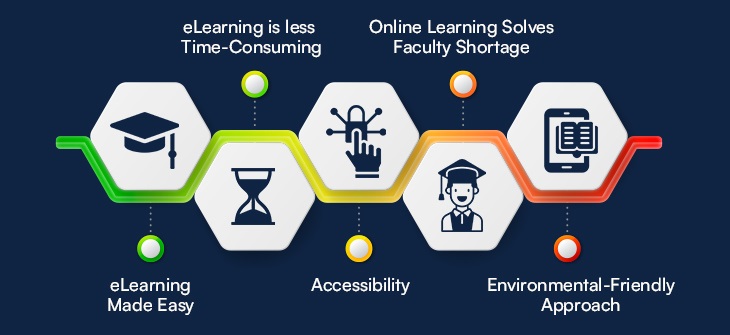 Online education is the latest and trending far from traditional services. The students feel confident and comfortable with learning on eLearning platforms. Students have confidence in a particular topic or concept if it gets to learn from the eLearning platforms.
eLearning is less time-consuming
Traditional education takes a lot of time to analyze the tasks and makes learning easy. The cost to develop eLearning makes sure about better perspectives and is less than traditional learning. Learners easily get to understand the learning, strength, and inspiration.
The eLearning platforms introduce the most notable features that enhance portability. Users can check out the latest trends and learning material easily from any platform. Factors that make online learning extraordinary, flexible, and interactive.
Online Learning Solves Faculty Shortage
The shortage of faculty has been a major problem for a very long time. eLearning has solved the problem of such a perspective to an extent. It is a useful example to represent the whole example. eLearning platforms do not increase the teaching staff but easily solve the problem of education.
Environmental-Friendly Approach
The popularity of online education has reached a hype to the extent, it has helped to save the environment to an extent. It uses 90% less organic compounds and energy than traditional learning does and emits 85% less CO2. Online learning does not need textbooks and reduces paper usage.
Trends in eLearning platforms
Thanks to eLearning trends that made education reach every corner of the world. eLearning habits made it very easy for evolving learning habits. Students are showing more interest in virtual learning. These trends are expected to bring changes in the educational world. Learning approach got new methodologies:
Social and adaptive learning
The most prominent aspects of education are adaptive learning and mobility. The more a student can interact with their classmates, the more chances to enhance the learning experience. The rise of hybrid learning and training has enhanced to an extent with time. Corporate offices and institutions are running training sessions for education and upskilling their candidates from a distance.
Learning Management System
An LMS is very useful for schools and it also supports teachers. A learning management system supports instructional teaching patterns and allows students to access content in multiple forms anytime and anywhere. LMSs enable interactive features just like video classrooms, and more other ways to contribute.
eLearning app developers enhance the progressive approach to social learning. Co-workers get help with new training and other educational perspectives offered by online learning spaces. An open, relevant, and effective online learning environment is perfect to carry forward.
Micro-Learning
Micro-learning offered by eLearning platforms makes eLearning work and allows students to learn easily. The trends in eLearning engage and surprise learners and teachers. Online learning software allows students to learn faster and more effectively. Micro-learning platforms work on an interactive approach, gamification, and simulation, in education. eLearning platforms provide users with rich benefits and eLearning.

Online Learning and AI: The Future of eLearning platforms
Artificial intelligence is the fastest emerging concept in the eLearning app development industry. eLearning platforms are trending to an extent with the latest processes. Artificial intelligence (AI) is effective in automating and speeding up the learning processes. AI is enabling the platforms to introduce personalized learning experiences to ensure better learning.
Content Curation
A large amount of content is available over the internet, visible to all associations. The learning mediums focus on the most relevant content presentation. Study material is a significant part of education, effectively performing any organization's function. Effective content creation is important for students to use the content in a quite correct and relevant way.
Data Security
The importance of data security is gradually increasing for eLearning for institutions and organizations. Parties involved in the process must know the ways to prevent the invasion and maintain data security. eLearning platforms promote security methods.
It's not easy to learn and keep upskilling for teachers and students. Professionals have to stay updated and keep using the relevant methodology to learn at an incredible speed. Flexibility is an essential part of learning programs. eLearning platforms that introduce flexible and easy-to-understand learning programs are likely to get popular.
Conclusion
The latest technologies and trends are helping to improve our everyday life. Education is a major part of the list of industries. Now tech is catching pace with the power of eLearning app development. Reputed mobile app development companies across the globe are redefining educational perspectives with eLearning platforms.
A great service can do far better than a marketing strategy. Dive deep into the world of software-based business whether it is education or e-commerce, and you will see the change and stability.