Online dating apps are transforming the existing dating and relationship culture worldwide. These applications come with a decent subscription plan and also provide some facilities for free. These dating apps are leading to many healthy relationships as the users can find more compatible partners out there. As such many businesses want to develop a dating app nowadays.
Dating apps can be monetized in different ways and get very high traffic. Therefore, many companies want to create a dating app like tinder. One can create such an app to facilitate a local or global audience. It is a great mobile app idea for start-ups and experienced firms. The matrimonial and online Dating  industry is evergreen. Mobile apps are just a technological add-on to it.
Dating app like Tinder is a great example of such a mobile application. It was established in 2012 and has become the most popular online dating application to date. New app businesses are getting ideas from Tinder to introduce a unique online dating concept in the market. They're usually concerned about the cost to create a dating app and want to make sure if their business strategy is compatible with the relative cost.
In this article, we're going to discuss how to build a successful dating app like Tinder and the various features that differentiate such a business model!
Let's proceed!
What are Dating Apps & How They're Performing in the Market?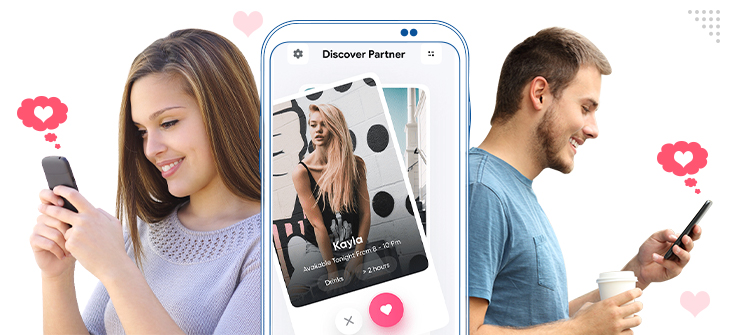 A dating app is a sort of social media app that allows users to make new friends with whom they could start a romantic relationship in the future. Dating applications are doing pretty well in the app market throughout the last decade. More than 27% of committed relationships depend on such internet-based platforms nowadays. Tinder's total worth has crossed $1.5 billion so far. Dating app development companies need to make sure of certain aspects while develop a dating app like tinder.
The developers also need to target a specific audience for their dating app model. Tinder is currently targeting 50 million+ users throughout the world. Out of these users, 60% are Americans. Besides Tinder, Badoo, Match, Bumble and Hinge are other notable players in the market!
Make a Dating App like Tinder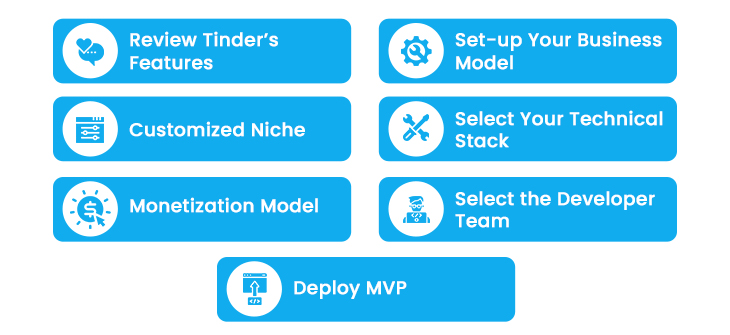 Before creating a mobile app, the developers need to examine the client's business model. Dating apps also have a unique business model that differs from other industries. The cost to create a dating app also depends on such a model. The business model includes- app architecture, products, services, goals, and objectives. To build an online dating app of Tinder's level, you can follow these steps:
1. Review Tinder's Features
Before starting your app development project, you must review the features of your competitor's app. It doesn't mean you're copying your competitor's app but making your way into the market. There's nothing like copying an app feature, because, all app companies that are related to a specific niche provide almost the same features. Tinder's leading features include- Geo-location, Social Login, Swipe Surge, Match Algorithm, Profile Setting, Push Notifications, Private Chat, etc.
2. Set-up Your Business Model
If you're planning to create an online dating app, make sure that your business model is unique to some extent. For example, you can bring better offers for new users or provide some discount. It will set your business goals apart from others in the market. You have to approach a dating app development company and share your business model with the app development experts to get the best outcome.
3. Customized Niche
This includes custom features that you can add to your app for promoting more uniqueness. You can add the option of Food Preferences, Lifestyle Preferences, Dressing Sense, Favorite Holiday Destinations, and more to project the user identity more effectively. It can help users get the best results possible for their searches. They can find a perfect match very quickly and efficiently.
4. Select Your Technical Stack
The app development team that you hire for your online dating project suggests the right technical stack. A technology stack consists of various tools and techniques used for building a website. Your tech stack can be expensive or cheaper depending on the components included. To develop a dating app like Tinder, you can approach the following tech stack:
Programming Language- Swift, Java, Kotlin
Framework- Node.js, Next.js, React Router
Database- MongoDB, PostgreSQL
Web Server- Nginx
Payment Gateway- PayPal
Cloud Storage- Amazon S3
General Utilities- Google Maps, Google Analytics, Optimizely, etc. 

5. Monetization Model
The monetization model of a mobile app is generally divided among- In-App Purchase, Plans & Subscriptions, Sponsorships, Paid Application, and Freemium. You can choose any of these models to Create a dating app for your business. Every mobile app is subject to making money in different ways. App businesses need money for timely maintenance and innovation. New features keep adding to futuristic applications.
6. Select the Developer Team
Even if you're building a start-up dating app, you must hire a developer team for better performance. Multiple app developers are specialized in various tools and techniques. They can together suggest the best app-building solution for your dating app. You can select a team depending on their hourly rate or fixed rate distributed as various milestones. You must also review the portfolio of the developers involved in your project.
7. Deploy MVP
If you're planning to represent a new or start-up business, you should always go for an MVP model. It stands for Minimum Viable Product which means no to complications and bulkiness. Dating or chatting apps are usually lightweight and have minimal features. The UI needs to be simple, having fewer elements. Though online dating apps are also considered as social media apps, they don't have an over-stuffed architecture like Facebook, Twitter, LinkedIn, etc.
Ending Thought
By building an online dating app like Tinder, you can contribute to social welfare by promoting healthy relationships. When you develop a dating app, you don't target a specific user community but everyone who's in the age of relationship. These applications are also promoting happy married life by developing stronger relations among couples. Build your online dating app and bring incredible ideas to life!