Almost everywhere, you might meet lonely people who need somebody to live their life. Dating apps make the link between people who are looking for a serene shelter. Dating app development is increasing at a speedy rate, so investing in this will make an incredible profit.
The total revenue of dating apps was $3.08 billion in 2020, which has created a buzz in and around. Hence, most companies are focusing on developing a dating app to reach their profit margin. Though the requirements are enormous, the knowledge is limited. The apps take and properly obey the responsibility to settle others' lives with mutual respect, compatibility and sympathy. With their innovative and accurate algorithm, these apps are gaining success in the entire matter, and it is time to learn how to develop and design a dating app with a minimum haul.
Let's go through the paramount steps of dating app development..
Factors to Keep in Mind to Develop a Dating App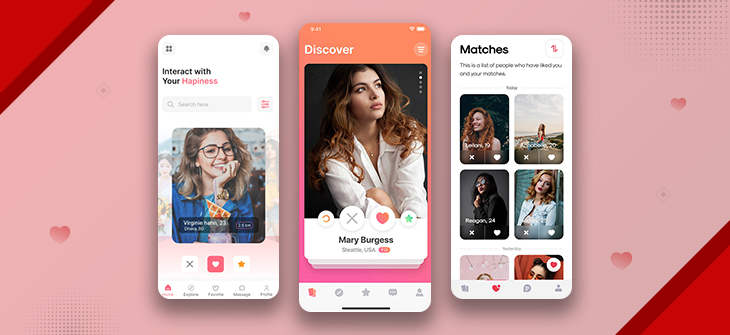 Decide the functionality
When you have your concept of developing a dating app, you should also consider whether it will work or not in the current market set-up.
Ensure its benefits
Before creating a dating app, mark the benefits it will boast and what the users will receive through it.
Select proper monetization strategy
Choose an apt monetization method wisely for your dating app to ensure your profit.
Make a stellar design
Your dating app should engage people and must serve their needs. So put a great effort into choosing the design and structure of your app.
Utilize advanced tech stack
Only expert developers can use advanced tools and technology to give your ideas the right shape and life.
Add MVP
Include all the necessary features in the MVP to ensure a steady basic functionality of that app.
App Statistic You Must Know
The way we find someone has changed completely. With the advent of modern technology, we are able to learn every minute detail of a person before starting further communication with them.
Stats says that 27% of committed relationships start via the Internet. If we see, the number is approximately 40 million people who are using dating applications and websites to find someone special around the globe. The estimated annual revenue of all dating apps is around $2 billion. The most popular app, Tinder, counts around 50 million users across the globe, while 60% come from the U.S.
The total worth of Tinder is estimated at around $1,6 billion. These figures make it clear that the dating apps market is growing with customers' demands. Therefore, if you want to make a dating app, this is the right time. And in this case, you should follow top industry leaders like Tinder.

Must Have Features to Create a Dating App
After creating the MVP version to develop a dating app and raising the first stable audience, you must implement new features that can widen functionality horizons and bring a new user experience.
Implement chatbots
We can see that chatbots are everywhere, and their main purpose is to make the journey of users smooth and seamless. Chatbots are icebreakers in the niche of dating apps. Through chatbots, people can create the first line for conversation with a match easily. Moreover, the chatbot notifies if a conversation has been left unanswered or if a new message has arrived.
Video call options
People are now more flexible and prone to go with the non-restricted conversation. Once the primary introduction is over, the matches can start. When the matches get to know each other well, they can arrange a conversation through video call sessions to chat in person. The far-away matches who can't meet up frequently can enjoy video calls for a long time.
Profile verification
After knowing a person, one will love to chat with them in person. Profile verification is a vital feature, and many famous dating apps have verification features. Here the users need to require sending separate photos to moderators that tell you what should be on the photo to verify your identity.
Tech Stack: Dating App Development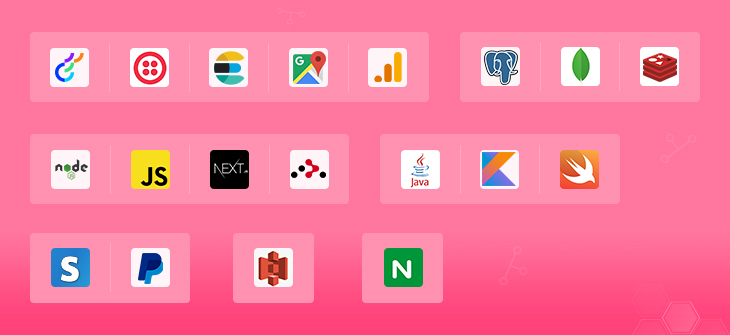 The main feature of designing a dating app is to get acquainted with the right tools and technologies. The experts can meet your goal.
Tools for back-end Programming
The Required Languages: Java, Kotlin, Swift
Top Frameworks: Node.js, Express.js, Next.js, React Router
Needed Database: PostgreSQL, MongoDB, Redis
Cloud storage: Amazon S3
Web servers: Nginx
Safe Payment Gateway: Stripe, PayPal
Other general utilities: Optimizely, Twilio, Elasticsearch, Google Maps, Google Analytics and so on.
Cost to Develop a Dating App
Costing is a pivotal factor that you must have an understanding of before starting your project. You must know the amount you need to invest in designing a dating app. Comprehensive knowledge of the amount you are going to pay will help to manage your budget.
The cost to develop a dating app extensively depends on the time it will take to get in shape. Considering the European hourly rate of $50, the development cost of a dating app for iOS and Android will be $160,000 approximately. The exact figure will be a matter of consideration as it depends on meetings, DevOps, QA, Team Lead, designers services and release sequence etc.
Hence, the final price can be figured out only after the analysts gather all information about the project and can say about the final estimate.
To attract a larger range of audiences, you have to offer them a lucrative option for a free download. To generate revenue, you don't need to make your app money grabbing. Ample of other app monetization methods are available that are widely utilized by savvy app creators. Pick the best app monetization model prior to starting Dating app development.
Premium option
With the free services, you can offer some premium features for your dating app with the premium version. You can add some additional features to your app, like-
Boost the accounts
Allow your users to use the features of your app for a specific time. To utilize more search options with preferable matches, ask your users to pay a certain amount and become a premium member. The top dating apps that use this monetization feature are Tinder, Bumble, and OkCupid.
Advertise method
You can also incorporate advertising and earn money from it. 90% of apps are using this method. Integrating different advertising into your app help you to gain maximum revenue. However, make sure you don't overfill your app with ads, as it will reduce the user engagement rate.
Final Words
To start a dating app, you can consult with the experts having years of experience in this field. They know how to develop a user-friendly app that can help you to gather a huge ROI. Once you are done with proper planning, design and structure of the app, you must talk with the skilled developers. If you are wondering how to choose experienced professionals, we are here to help you.