Online dating apps are equally contributing to the mobile app market as compared to matrimonial apps and websites. People like to visit such apps for making new friends and finding their love interests. As such, app companies are getting higher business opportunities and a new target audience. Consequently, Online Dating App Development is getting popular among start-ups and emerging businesses. You may also call them social media and chatting apps.
Features of these apps are like other social media and chatting applications. However, people may find other random people who are stranger and unknown to them for a virtual or traditional friendship further. Online Dating App Developers is also providing full security to the users as they are looking for strangers to become friends with. Therefore, app companies are introducing new business models and innovative features to such apps.
The users often look for new features and functions. They've got ample options on the app stores to choose from. That's why new dating app companies are providing unique features to compete better in the app stores.  App Development Company has to realize the user demand and after that initiates the app development process. User demands keep changing over time.
Therefore, dating app development is becoming a challenge for the client's investors. They need to generate a good ROI from their app development outcome. Especially, being a start-up company, they care about the income to be generated from such mobile apps. In this post, we'll discuss how you can generate a good income from your dating app!
Why do You Need a Dating App?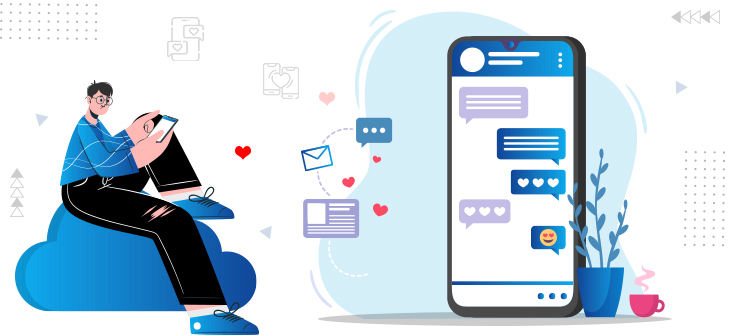 Dating apps are doing great business around the world. Last year, dating apps have done a global revenue of more than $5.5 billion. Moreover, the business of such apps is increasing by 5-10% every year. So, the business opportunity in this particular niche is growing throughout time. But the competition for Online Dating App Development is also increasing with time. Here are some common reasons that the app companies are considering such business models:
Better earning opportunity
Very high traffic
Better conversion rate
New concept and less competition
Simple UI and UX
Comparatively small database
More downloads and installation
All these factors lead to the best app development outcome and ROI for the app companies. Moreover, the developers know different ways to monetize such mobile apps and generate a perfect income for the client or the app company. You can approach a trusted mobile App Development Company to know more about your project potential!
Different Ways to Create Online Income from Your Dating App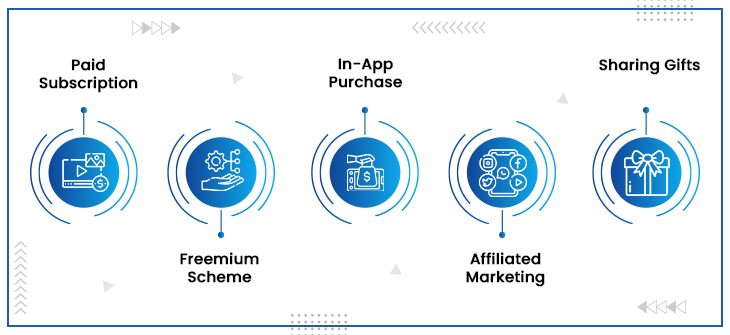 If planning to build a new dating app, you may find different ways to generate an income out of it. In this segment, we'll talk about those different ways and give you an idea for making a further decision regarding your app-building project. Before getting your dating app development services, you must decide on a particular medium of earning and initiate your business model accordingly:
1. Paid Subscription
This is the most common type of earning model that businesses prefer to go with. Paid subscription directly brings money to the company's funds. However, it doesn't mean every mobile app user is going to take the subscription. But it generates decent income against the business investment or even crosses it easily. ROI is what we say is the ultimate outcome of an app development project and it should be perfect.
2. Freemium Scheme
This scheme can bring more effective ROI as it focuses on attracting user attention first. A freemium plan means that the company provides free app installation and 1-2 months free subscription to the users after which, the plan automatically converts into a premium plan. In the meantime, the app users can get a dedicated experience about the app features and functions. He could end up with a free subscription if doesn't like the app.
3. In-App Purchase
The mobile app development services also help in adding in-app purchase functions. These functions are very important to optimize the user interest in the app offers, products, and services. The in-app purchase consists of attractive offers, new features, and functions. Users with a free subscription are not able to enjoy all mobile app functions. But they also get encouraged by other users who have the premium subscription plan.
4. Affiliated Marketing
You can also do affiliate marketing and get rewarded for marketing someone's online products or services on your mobile app. However, your own mobile app should get mature before you consult someone to market through your platform. Many affiliate marketing services are being approached by top brands and start-ups for online promotion and it could become a great earning opportunity for you. You can also consult your Online Dating App Development company for more details.
5. Sharing Gifts
Some dating apps are also offering gift-sharing facilities to users. They can send beautiful virtual gifts to their partners, friends, and love interests connected on the mobile app. The app companies monetize such gifts and the demand for such gifts is also very high among regular users. It is quite a smart way to monetize your dating app. Keep updating your mobile app gifts from time to time.
Final Thought
As such, you can generate a good income from your online dating app. Your Dating App Development company will let you increase your business worth by suggesting modern features and functions. You can also share your ideas with the Dating App Developers to get better advice!