Online streaming and OTT platforms have introduced a new era of entertainment. The demand for these streaming apps has increased remarkably in the past 2 years. Due to the global Covid-19 outbreak, many countries and regions are still undergoing lockdown and corresponding restrictions. So, the daily use of smartphones has increased and Online Streaming App Development is the new trend in the app market.
Online Streaming apps provide early access to your favourite shows, movies, animation, and documentary content either for free or a subscription plan. The content is stored in the cloud server of the company or a 3rd party provider. The popularity of Online Streaming App Development has encouraged many famous companies to rise in the past 6-7 years. Netflix, Amazon Prime Videos, Hot-Star, and MX Player are among the top examples of online streaming apps.
YouTube is the leading online video streaming platform in the world and has encouraged other app companies to introduce new content ideas. Additionally, the apps are coming up with new and innovative features to grab higher user attention and engagement. These online streaming apps are transforming personal entertainment to a whole new level.
Going through this post, you can learn how to create a good online streaming app and exhibit your business idea to a modern audience. You'll also learn what type of Mobile App Development Services you should approach as such!
What are the Latest Online Streaming App Features?
Remember that you should stay updated to the new app features that your competitors introduce in the market. These features attract more traffic and conversions to your mobile app. Online streaming represents video entertainment and the mobile app features should be based on the relative content. Online Streaming App Development is related to the deployment of the relative features and functions.
Enlisted are the leading features of the online streaming apps that you shouldn't miss out on while developing your app:
1. Regional-Content
If you're planning to globalize your video-streaming app, there's no perfect business strategy compared to that. However, you need to include the regional content of the target countries. Moreover, you must provide the option of regional language or subtitle within the foreign content.
2. AI Recommendation
AI technology integration is becoming an inseparable part of various mobile app niches. The feature automatically recommends the relative content on the app database as inspired by the user's taste and preferences. You must approach the contemporary Mobile App Development Services for a better outcome.
3. Live Streaming
Some content on the OTT platform allows live streaming. YouTube is the best example to talk about. It enables the channel admins to organize some live events, webinars, and discussions occasionally. Live Streaming can also represent a world movie or TV show premiere. It can bring huge viewer traffic to your platform.
4. Downloadable Content & Various Categories
Viewers have different tastes in movies and TV shows. So, the App Development Company should provide content in different genres. For this, the app company has to ask for permission and establish a partnership with various film production firms in the industry. Additionally, the content can be made downloadable for offline access.
5. AR/VR & 3D Content
This one is a modern feature and most OTT platforms are looking for relative mobile app integration solutions in the market. People want to watch their favourite movies and TV stuff using their VR devices for a new experience. For this, the content should be available in 3D format. Though it is an expensive approach, it could bring several new subscriptions to your business.
6. Multiple Users and Device Access
Accessibility is the leading feature of such online streaming apps. It optimizes the user experience and lets them play their favourite stuff on multiple devices. An App Development Company needs to focus on the UX elements of such app-building projects. The content should be accessible by more than one user at a time on multiple devices.
Apart from these features, the developers should add- Multiple Subtitles, Video Quality, Preference Setting, Content Sharing, Mini Window, Watchlist, and other essential features depending on the user demand and client requirement!
Build a Futuristic Online Streaming App: Things to Remember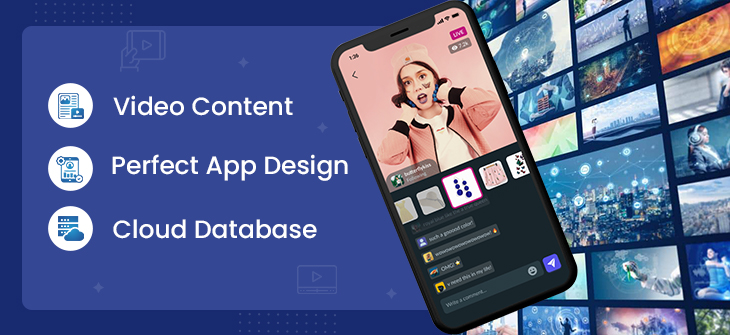 The app development process has many new and old aspects to consider before launching the product. Online Streaming App Development is also related to such aspects. The app developers shouldn't overlook the basics while initiating the development process. Here's what you should remember while building a trendy online streaming app:
1. Video Content
First, you make sure the content is added to the platform. Online streaming is all about the video content available on the app. The content decides whether your mobile app is able to generate better user engagement or not. Moreover, some content needs to be restricted against kids' and teenagers' use. The developers must provide such restriction features to the users.
2. Perfect App Design
While designing such a mobile app, you're not supposed to add any complications. The overall UI layout and navigation structure should represent simplicity. Additionally, the designers should take care of the thumb zone of the user and organize the app components accordingly. The Online Streaming App Development project must promote user convenience.
3. Cloud Database
The database of such OTT apps is huge and can't run using physical hosting solutions. The developers need to approach cloud hosting for competent performance. The users won't like to experience buffering on the relative app content. They also need to download their favourite stuff, therefore, you must maintain the speed of the mobile app.
Final Thought
Mobile app developers know the other important aspects of generating a profitable OTT app. So, you must reach out to an experienced Online Streaming mobile App Development company to offer the leading video content to your target audience. You can stay updated to other online streaming platforms on the Android and Apple Store.
They can inspire you regarding the customer tastes and preferences effectively. Moreover, you need to manage a strong budget and investment plan for your OTT app-building project.