The term Internet of Things (IoT), stands for technological integration between everyday things. Connected devices through technology facilitate smooth communication of devices with the cloud. Thanks to the advent of high-bandwidth telecommunication and low-cost computer chips. To date, this world has billions of devices connected to the internet. 
Every day articles like vacuums, cars, lights, fans, and machines can use sensors to collect data and respond intelligently to users. Computing devices have diminished into chips. These have become smarter, faster, and smaller over time. The IoT industry has filled-up homes, offices, and businesses with IoT devices. Small objects on IoT can carry out to and fro data communication with the internet. 
These "invisible computing devices" are collectively referred to as the Internet of Things running over the technology. A network of technology embedded with sensors, software, and other technologies is called the Internet of Things (IoT). These IoT-based devices range from domestic environments to large-scale industries. 
Facts:
With 14.4+ billion IoT-connected devices in 2023.

IoT devices are expected to grow by 27 billion by 2025.

Worldwide spending on IoT by 2023 is estimated at $1.1 trillion.
Technological components of IoT app development:
IoT devices have existed in this world for a very long time. A set of advanced technologies are ranging to support the successful world of IoT. Low-power sensors and low-cost concepts are making these IoT devices reliable and affordable. 
Connectivity: It's a host of network protocols, here the internet allows sensors to connect with the cloud and devices to communicate efficient data transfer.
Cloud computing platforms: Increased availability of cloud computing platforms enables customers and businesses to access the entire infrastructure remotely from any place. 
Machine learning and analytics: Advanced-level machine learning and analytics allow data storage, gathering insights, and more. Boundaries of IoT are made of these technologies.
Conversational artificial intelligence (AI): It has brought us facilities used in IoT like NLP (natural language processing) and helped us with digital personal assistants Alexa, Cortana, and Siri.
How industries are working on IoT?
Industrial IoT applications established IoT technology integration to industrial settings. Cloud technologies are scaling instrumentation and control of sensors and devices. Industries have achieved wireless control and automation using machine-to-machine communication (M2M). industries can achieve a new automation layer and create revenue with an IoT-based business model. It is also known as the fourth wave of the industrial revolution.
Here are the top use cases employed by industries:
Smart Manufacturing

Connected assets and preventive and predictive maintenance

Smart power grids

Smart cities

Connected logistics

Smart digital supply chains
What are IoT applications?
IoT Applications are software-as-a-service (SaaS) based applications. Such types of software allow businesses to analyze and present sensory data on the dashboard. 
IoT applications use AI and ML algorithms to store and analyze data. IoT shows data on the dashboard and generates real-time alerts. Businesses gain visibility into KPIs and statistics in the meantime. Machine learning-based algorithms help to identify anomalies, trigger automatic repair, send alerts, and proactive countermeasures.
Cloud-based IoT applications allow businesses to enhance existing processes quickly. Such apps support supply chains, customer service, human resources, and financial services without the need to recreate entire business processes.
Which industries are benefited most from IoT app development?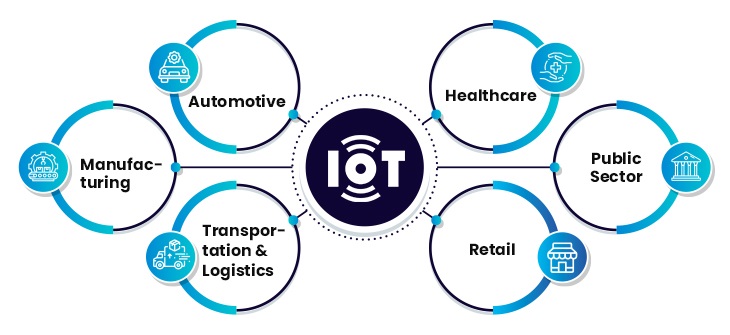 Check out the list of industries that find working on IoT app development the most suited option for business processes. 
Manufacturing
IoT provides manufacturers with a competitive advantage like production-line monitoring. Whenever sensors detect an impending failure, IoT apps can enable proactive maintenance of equipment. Manufacturers can quickly check for the accuracy of the equipment with the help of sensor alerts. Companies can get better uptime, reduce operating costs, and improve asset performance management.
Automotive
IoT shows a significant advantage in the automotive industry. Sensors are proficient at detecting impending equipment failure in vehicles that are running on the road. IoT-based applications are benefiting automobile industries by aggregating information. Automotive manufacturers and suppliers can alert the driver with recommendations and learn more about keeping cars running and car owners informed.
Transportation and Logistics
Transportation and logistical systems have a variety of benefits from the concept of IoE (Internet of Everything) applications. Fleets of cars, trucks, ships, and trains can easily be rerouted based on weather conditions, driver availability, or vehicle availability, all possible due to IoT sensor data. The flower, pharmaceuticals, food, beverages, and industries comprise temperature-sensitive inventory.
Retail
IoT applications are helping retail businesses with benefits like managing inventory, optimizing supply chains, improving customer experience, and reducing operational costs. Beacon technology inspired by IoT promotes targeted marketing and provides offers. You can provide customers with the most engaging experience. 
Public Sector
IoT has benefitted a wide range of public sectors and other service-related environments. Government-owned services are based on IoT app development to manage notifications for water, power, or sewer processes. IoT applications collect data and deploy resources to help services match the level of services. 
Healthcare
IoT is providing benefits to the healthcare industry. Doctors and hospital staff can monitor the exact location of wheelchairs and other patient-assistance assets. IoT sensors track machines and devices in the hospital and let them control remotely. 

What are the benefits of IoT app development for businesses?
Accelerate innovation
The Internet of Things (IoT) uncovers new opportunities and allows businesses to access advanced analytics. For example, marketers can create targeted advertising campaigns with robust strategies by collecting data like active time, customer behavior, feedback, engagement, etc.
Triggers actions and insights with AI and ML
Business owners and marketers can predict future outcomes with historical trends and collected data. Warranty services are flexible based on predictions made on the data collected from previous maintenance incidents. This service proactively provides customers with the best customer experience and loyalty.
Increase security
One can enhance physical efficiency, and infrastructure, optimize performance, and reduce safety risks by continuous system monitoring. IoT models collect data from outside and combine it with the hardware. This way, the firmware version data automatically schedule system updates.
IoT app development technologies are easy to deploy and provide a customer-focused interest. Businesses keep a stock of trending products. 
How is IoT/IoE changing the world?
Concept of IoE (Internet of Everything) is reinventing daily life by enabling devices and appliances to work synchronically. Home, business, or industry owners can operate their systems remotely. Preheating, lights on/off, activating fridge or air conditioner, etc. IoT can enable stronger device-to-device communication. 
Connected cars are the biggest examples of this IoT world, allowing car manufacturers or dealers to operate the car changes. Connected cars allow customers or dealers to have a continuous relationship with each other. 
Make the best business decisions with IoT app development at Appikr
With IoT app development at Appikr, help to extend ERP, HR, supply chain, and customer experience (CX) applications to the digital world. Predictive algorithms leverage intelligent and digital twins to boost worker productivity and operational efficiency and create new business models and opportunities.