The mobile app market is growing with revolutionary business ideas. These ideas are giving birth to various start-ups and new companies. Consequently, social integration and connectivity are improving like never before. People having an introverted nature also like to open up on such social media platforms. Yalla app is a new and unique social media platform to consider as such. To build a social media app like Yalla you must review its business model.
App's business model is based on live group voice chat and communication. This concept makes social conversation more fun and exciting. That's why the Yalla app has become very popular in a little period after its launch on Google Play and App Store. Yalla app is a social media app and such apps attract the most user traffic in the app market.
The app is free to install on both Apple and Google Stores and that's why it has attracted millions of downloads so far. In this post, we'll learn how to create such social media and audio-sharing apps and what important points the developer should consider creating a compelling product for the existing market. Let's move to the topic!
About Yalla App
You might be wondering how popular is Yalla and why you should establish an app business like that. The app has got 50 million+ downloads on Google Play Store alone. The app is also offering in-app purchases worth $1 to $300 per item. To build a social media app like Yalla you must follow their monetization model and development cost as well. Both these factors also depend on the corresponding business model.
Yalla app is a fast and user-friendly social audio-sharing platform that comes with various amazing features for new and old users. The app offers a monthly subscription to premium members. The premium subscription is further classified into 3 offers- Knight, Baron, Patrician, etc. These 3 subscriptions have different benefits for various types of users.
The users can also join global chat rooms promoting discussion on multiple topics. Additionally, the app has got various private chatting segments for people having special relationships, friends, and relatives. Besides social interaction, the app lets users play some online games with their friends and folks. Moving ahead, we'll talk about some basic features that such apps must have!
How to Build a Social Audio Application like Yalla?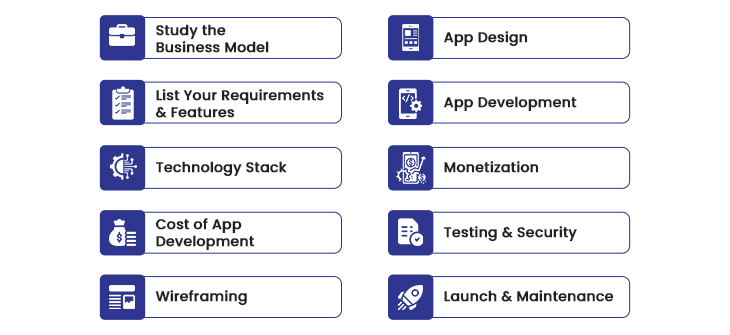 Apps like Yalla are gaining adequate market attention. There's something different about such app features and functions. The business concept of Yalla is also unique and ground-breaking. The company wants to establish social interaction between users through music. Yalla app lets users share their favorite music and their artistic hobbies accordingly.
In this section, we'll discuss a step-by-step guide on how you can build a social media app like Yalla and what major things you need to remember throughout your app development journey. So, let's get started:
1.Study the Business Model
Getting inspired by someone's mobile app company is a different thing and analyzing its business model is different. New app companies are inspired by someone's app business but need to do some research before starting their own app development project. They must research the corresponding business model. It can help them clarify their goals and objectives very well.
2.List Your Requirements & Features
Moving ahead, the app company must note down its app requirements and features. Every online business has some requirements to establish itself through a mobile app. Besides business requirements, a product like Yalla chat should have some basic and advanced features like- Sign Up, Feed, Text & Voice Chat, Chat Rooms, Games, Virtual Gifts, Uploads, Screen Sharing, etc.
3.Technology Stack
After making your list of mobile app requirements and features, it's time to choose the technology stack essential for the development process. Selecting the right tools and frameworks for your app-building process is very crucial. A technology stack used to build an app like Yalla may include- Communication Protocols, DevOps, Data & App Management, and Audio/Video Calling Tools.
4.Cost of App Development
After deciding on the ideal technology stack and app features, you should analyze the development cost of your project. It can be different for different types of apps. The app development process is divided into various segments- Project Estimation, Development, Design, Testing & Support. If you're planning to the app an MVP, it may cost you $40,000 to build an audio bases social media app like Yalla.
5.Wireframing
Wireframing is not done in every app building project. Still, it is used by many developers to minimize the complexity of the process. Long-term app development projects and approaches need to have proper wireframing. You can draw a prototype of your Yalla chat application before starting your development process. It will help you conduct your process systematically.
6.App Design
Generally, the app design team is associated with a development process. You should also hire a proficient app design team or ask your app developers to collaborate with a team that has some work experience with your project. To build a social media app like Yalla, it's important to add an interactive app design and promote user-friendliness. Select the right UI-UX elements for your app.

7.App Development
App development is categorized into- Frontend and Backend approaches. Backend is the foundation of any app-building project. It simply represents some coding and programming principles that the developers should be aware of. Programming languages and frameworks are selected considering the type of app required to be made. It can be a Hybrid, Native, Web, or Cross-Platform app.
8.Monetization
App monetization can also be done after the app launch. To bring a good ROI out of your app business, you should know how to monetize it. App monetization can be set up in the form of subscriptions, virtual cards, brand events, and more. An audio bases social media app like Yalla can mostly be monetized through subscriptions or in-app service purchases.
9.Testing & Security
The approach step is to ensure app security and trustworthiness. It can lead to more user traffic, user retention, and brand loyalty. App testing and security are crucial for all types of apps before launch. It is the last step before making an app launch. Yalla application also goes through some cyber threats and uncertainties. The internet is full of cyber-attacks and you must protect your app users.
10. Launch & Maintenance
The final step is launching the app on an ideal app store. You can target more than one platform to deploy your social audio-sharing app. Go through the app store standards and protocols before deploying. A cross-platform app development approach can allow you to deploy your app on various platforms like Play Store, Apple Store, Microsoft Store, etc.
Closing Words
To build a social media app like Yalla, you may take a few weeks to a couple of months depending on the app development company or team hired. Adding some advanced features like voice search can also take longer than usual to complete the project. Hence, hiring an experienced and trustworthy app development company is very important for bringing a good ROI through a social audio application like Yalla!