Undeniably, mobile applications have changed this world and individuals' daily lives. In this new normal age, users have to deal with new challenges. Mobile apps are improving experiences and facilitating activities at their fingertips. Portable music streaming apps have been the means of passive communication and entertainment.
Talking about popular music streaming applications like YouTube music, Spotify, Pandora, always get you a perspective of the apps that are prime focus in the entertainment industry. We can see how the internet has revolutionized the audio listening experience comparatively to the all time. 
Surprising Facts & Stats About Music Streaming Apps
Global music subscribers surged to 523.9 million by 26.4% during the pandemic.

Revenue generated by the music streaming market in 2023 is 15.9 billion.

14% of the population pays for music streaming services.

3.6 music streamers pay for subscriptions out of 10.

Gamers are 14% more likely to pay for music streaming services.
Why should you invest in music streaming app development?
Music streaming applications are becoming popular with time. Top statistics show that the music streaming app ecosystem will have a market share of $7.36 billion by 2027 at a CAGR of 6.16%. 
Stats are the signs of the success of music streaming apps. Music streaming app revenue is increasing at a tangential pace. Brands are competing and joining the market to enhance their revenue in this industry. Here this blog will get you a complete idea of app success in the music streaming industry.
How To Build A Music Streaming App Like Youtube Music?
A music streaming platform can be of two types, with ready-made audio available in different formats in different locations. People can create live streaming, OTT platform, on-demand, podcasts, or combinative functionalities as per the business model. 
Different music applications with features and functionalities help to leverage the global industry of music streaming. Leading mobile app development companies like Appikr embeds monetizing business models to generate profitable revenue and provide substantial infrastructure in leveraging your music streaming service.
What Makes Appikr Special – A Tech Insight
Creating a medium for users or the target base needs attractive features introducing basic success cycles in any online platform or medium. Technological features are the priority for brand positioning.
How to develop apps like youtube music integrate with the features that reap the benefits for companies in the entertainment industry. Let's take a look over the technical stack quickly:
Storage:

It is a cardinal factor that helps to determine the performance potential of the application. Cloud storage like Amazon S3 bucket is used in native apps and websites to store a lot of data on servers. 

Content Delivery Network:

CDN is an essential component to build online streaming platforms. CDN can cut down transmission costs, and increase global presence with reduced usage of bandwidth by data files. For example, AWS CloudFront CDN has a proven history of low latency, high scalability, security, and reachability.

HLS Player:

It is a web communication protocol created as an online standard for delivering web-based content. HTML5 player is adept to carry sound quality, the ability to carry out extensions, and quality pictures, it is low latency and compatible across all devices worldwide. Different solutions provide clients with the choice of freedom and suggest other players be integrated.

On Cloud/ At Premises:

Cloud-based processes introduce maximum flexibility. Music streaming platforms are easy to integrate into the cloud or on premises. One can easily opt for supportive deployments. 

Platform Infrastructure

: White-label music streaming apps have custom software designs modifying functionalities. Set a brand logo and theme for a music streaming application by setting up functionalities. 

Inter-Connect With Other Platforms

: Platforms or applications are hard to succeed without connectivity. Internal communication and connectivity on social media help with popularity and an increased number of users. Social media is a rich marketing ecosystem, helping to influence a robust customer database. 

Memory Cache:

A memory cache is a system to store memory on devices and local servers in the form of a cache. You get a highly responsive distributed memory object caching system that stores and captures data on temporary locations. It can easily transmit data and increase the response rate and frees the requests of the database.
Benefits of Creating A Music Streaming App like youTube Music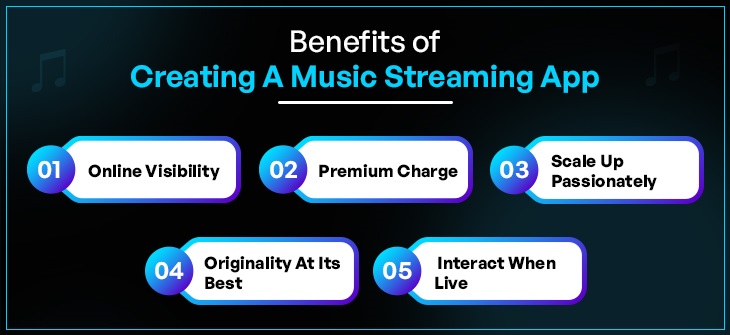 Online Visibility
Music streaming applications provide singers and music producers with an opportunity to enhance brand visibility. Music streaming tools help music creation to get found and popular easily. 
Premium Charge
Music record companies can get their music streaming platform and charge for subscriptions as per choice. You can compensate for the loss of revenue, resulting in increased profits with app development.
Scale Up Passionately
Music streaming applications help businesses to scale up at an extended level. As facts show the revenue generated by the music streaming market in 2023 is 15.9 billion. It helps independent music creators to pursue their careers.
Interact When Live
Music streaming apps allow the creators to connect with their customer base live on the platform. CDN integration into the application helps with low-latency audio streaming and high-quality sound.
Originality At Its Best
Leading streaming services in the market like youtube music and Spotify have started investing in original content. New artists can easily dare to conceptualize, produce, distribute & monetize content without thinking twice.
Important Features For Developing A Music Streaming App like YouTube Music
Here are the details of technical features and functionalities to create a successful strategy for effective music streaming app development. 
Settings: Users can customize their experiences with the help of the settings section. It is a useful and important section that takes care of the requirements and inclinations of the customers.
Lyrics Display

Displaying lyrics delivers an extraordinary experience to the listeners. Such features are AI-featured and help to grab words from music and songs.

Playlist

Users can save their favorite songs to listen to later without needing to find the songs individually. Users can easily archive music to share the playlist easily without effort. 

Music Suggestions:

Music streaming applications run over the AI assistant technologies like data science. Users get suggestions for related searches to improve user experience.

Search & Discover

The application gives the search option to the users and helps them with finding the most relevant music options directly in the search bar powered by filters.

Sharing option

Every music player is integrated with a sharing option that can easily promote the application. The users will open the link and download the app instantly.

Push Notification

Music applications can have push notification features that help out with marketing and keeping the audience engaged with the app.

Offline Music

Users can download all the songs and they are easily playable on the application without internet or low internet connectivity. This is possible with the help of a cloud or device.

In-App Chat

The app that allows users to share music and chat is likely to get popular. Users always keep looking for new means of connectivity and socialization.
Factors of Cost to App Like YouTube Music
Planning and estimating: before moving ahead with the mobile application, one needs to get a planned project. It needs to design a business model before investing money into it. Decide your target audience, their age, gender, location, language, and interest. 
Finding tech crew: App development team selection depends on the type of application and respective operating system. There are lots of factors (e.g. rates, location, language, time zone differences, etc.) that help to finalize the team. 
Designing the app: When creating an entertainment application the major concern is design. Such types of applications are features and action has to be intuitive and straightforward. Every application has a purpose and set of features.
Deciding on a Platform: Decide the operating system for which you want to create an application. The user base that it is going to target may be iOS or android users. You will be easily at ease to decide on the developer crew.
Getting licensed: Your music streaming application needs to follow the copyrights and legal procedures to play any music on your platform. Easily make any composition or track available on your application without legal issues. 
Developing features: Choose the best features required in the application to keep it popular as far as required. Integrate the popular functionalities to the application and make sure of a better user experience. 
How Much Does It Cost to App like YouTube music?
The cost of creating music streaming apps for Android and iOS can range between $45,000 and $250,000. There are many opportunities to target a wide range of audiences. The secret behind the high popularity of subscription-based applications is the right integration of the features. One can make its music streaming app available on branded service providers such as Google Play or Apple Store.
Storage & Hosting:

VOD hosting and storage play the role of the skeleton in enhancing the magnitude of the build of the app.

Set Of Features Implemented:

number of features decides the cost of the application, more the popular features higher will be the cost.

Technologies & Backend:

Technology selection is a primitive right to decide a business owner about tech based on the targeted operating system.

Custom Animation, Design, & UI/UX Elements:

Custom design, UI/UX, and animation are the elements that work as the face value of the application. 

Developer Rate By Hour:

One can hire mobile app developers from firms for a particular task, the developer will work on the issue and charge accordingly.

How can you make money with Music Streaming Apps?
An app idea or the complete model does not decide the app's success, it has to be fully featured and integrated with the revenue-making ideas. A dedicated business model and marketing strategy can help businesses with better experiences and the maximum ROI.  
Apps require a huge investment since the idea to develop apps like youtube music comes to your mind. After the successful launch, your project ought to get you the ROI back and then profit. 
In-App Advertisement:

you can place ads in your application, it will get you great revenue this way, it is all managed by the PPC person you just need to sit back and relax. 

Premium Subscription Model:

You can ask your users for better services like ad-free music, download access, amazing versions, and more in the premium subscription model.

Buying Music:

You can buy any premium record or audiobook from the sources and then sell it to the users. You can keep the purchase cost to an app like youtube music according to the availability you got.

Promotions & Coupons:

Release premium models on discount to promote the number of users. Later on, you can keep the original prize, once your users know the qualities of the application and are habitual in using it.
Why Choose Appikr develop app like youtube music?
Appikr provides reliable music streaming apps powered by built-in features and various monetization models. The team at Appikr offers a wide range of music app streaming ideas and business models, you can check the latest ideas and app UI designs for assurance. We can make it possible for you to get your app popular like youtube music. 
Here are some reasons why you should consider Appikr for your music streaming app:
The expert team: The mobile app design, development, and testing team consist of world-class, highly qualified candidates. The team dedicatedly works and innovates new ideas every day.
Privacy: We always start work after signing the non-disclosure agreement, that is NDA. It helps companies to stay assured of the confidentiality and security of ideas.
On-time Delivery: Appikr always sticks to the time limit, it always helps with emergency changes and unites days and nights to complete the project within the promised time limit.
Conclusion
Leading mobile app development companies are helping with top-notch development ethics and ideologies that work against expectations and business theme-based models. Hiring the right company and knowing the right cost to develop an app like YouTube music of development lets you know the exact pricing, but it is difficult to estimate the right cost without consultation.