One of today's most lucrative and well-targeted marketplaces is social media. Many individuals find it impossible to function without using a social media app for their everyday demands for social networking and, it might be argued, pleasure. It makes it easier for you to monitor nearly all of your social networks.
These popular social media platforms, including Twitter, Snapchat, Facebook, and Instagram, have caused a significant uproar online. Businesses looking to increase their market reach can consider developing social media applications as a one-stop shop. Users of these applications have the freedom to express their ideas, opinions, and thoughts.
It's assumed, that a social media app development roadmap is similar to popular platforms like Facebook and Instagram. How much does it cost to develop a social media app and how?
Every startup that is planning to develop a unique social media platform must be burning under the quest to determine the cost to develop a social media app.
Types of Social Media Apps in the Market
You must first choose the sort of app you want in order to determine how much it will cost to design a social networking app.
For your app type to be successful, we always advise either:
– Create an app for a very specialised audience or group, or present a very remarkable and new concept.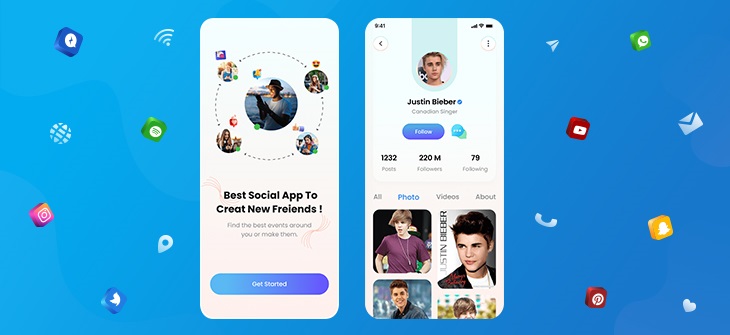 Networking app
You may use people from all over the world or develop an app that is highly specialised for a certain group. The applications may be used to build personal contact networks, broaden your professional network, locate investors and leads, as well as assist people in finding compatible partners.
Messaging & Calling App
Create your own messaging and calling software with military-grade encryption, high scalability, and distinctive innovations that is similar to WhatsApp and Zangi. Include tools like group chat, voice/video calling, file sharing, and messaging. Publish on the App Store or Google Play.
Team communication app
Make a team communication app similar to Slack. By self-hosting, you can take full ownership of the apps and ensure the security of the data and communications used by your team. You can brand the app with your logo, limit its audience to a particular business or neighbourhood, or make it available to the general public. To appeal to the modern consumer, add more security algorithms and unique communication and teamwork tools.
Photo editing & sharing network
Create a video and photo sharing, editing, and creation app similar to Instagram or PicsArt. To get the most out of these social networking applications, encourage users to employ various photo filters and intriguing features.
Brodcasting app
Make your own networking app using channels, a la Telegram, to broadcast your public messages to big audiences. Send out notifications directly to lots of subscribers. Users can build both public and private channels. Create subscription-based or free channels. millions of subscribers.
Blogging & discussion forums
By providing people with a forum to share their ideas and material, Twitter, Tumblr-like blogging or microblogging, and social content publishing tools may increase traffic and user engagement. To exchange information and advise, include discussion boards or Q&A services as well.

Important Features of a Social Media App
Authorization for Account
Every mobile application should have permission setup so that users can sign up easily and quickly. The same is true when developing a social networking application.
At the account authorization stage, the general rule of thumb is to limit the number of steps your users must perform to access the programme.
Creating profiles
The second aspect that social media developers take into account when creating social networking applications is profile creation and editing, which is a function that practically all social media apps share. Users are given the option to establish profiles at this point so that other app users may locate them.
App-based messaging
It's not only a standard procedure that every social app development process takes to include messaging functions. It is a necessary stage that must exist to meet the expectations of the consumers.
Posting of images and videos
The ability to submit videos and photos is the next feature that has been crucial to the growth of social media platforms. Any social media network you use will have the ability to post and modify photos, regardless of which one it is.
Connect to other social media platforms
It benefits business owners when they include the ability for customers to easily share material across numerous social media networks in the social media app features.
Search capabilities
The second feature that is shared by social networking apps is the ability for users to search for other individuals, organisations, pages, groups, etc.
Using push notifications
The one feature that unites all social networking apps—regardless of the category they fall under—as well as the whole mobile app market is the ability to send push notifications.
Unique Features to Design a Social App
Some popular Social apps are Tinder, OKCupid, Bumble, Grindr etc, and all of these follow the sound path of human interaction. To design a Social app, a must-marked point should carefully look after that emotion. As these apps are family-oriented so particularly human interaction, the needs must be met.
Factors to Keep in Mind to Develop a Social Media App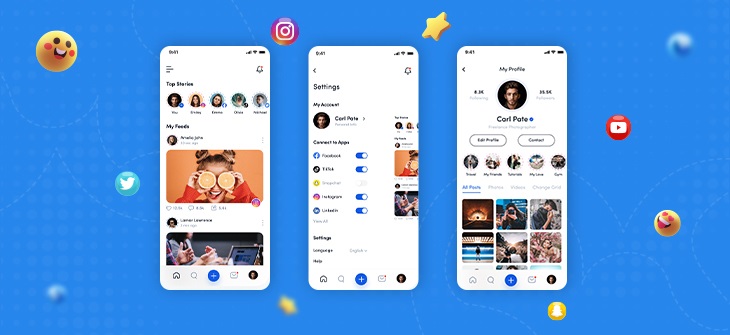 Decide the functionality
When you have your concept of developing a Social Media app, you should also consider whether it will work or not in the current market set-up.
Ensure its benefits
Before creating a Social Media app, mark the benefits it will boast and what the users will receive through it.
Select proper monetization strategy
Choose an apt monetization method wisely for your Social Media app to ensure your profit.
Make a stellar design
Your Social Media app should engage people and must serve their needs. So put a great effort into choosing the design and structure of your app.
Utilize advanced tech stack
Only expert developers can use advanced tools and technology to give your ideas the right shape and life.
Add MVP
Include all the necessary features in the MVP to ensure a steady basic functionality of that app.
App Statistic You Must Know
The way we find someone has changed completely. With the advent of modern technology, we are able to learn every minute detail of a person before starting further communication with them.
Stats says that 27% of committed relationships start via the Internet. If we see, the number is approximately 40 million people who are using Social Media applications and websites to find someone special around the globe. The estimated annual revenue of all Social Media apps is around $2 billion. The most popular app, Tinder, counts around 50 million users across the globe, while 60% come from the U.S.
The total worth of Tinder is estimated at around $1,6 billion. These figures make it clear that the social media apps market is growing with customers' demands. Therefore, if you want to make a social media app, this is the right time. And in this case, you should follow top industry leaders like Tinder.
Top Features to create a Social Media App
After creating the MVP version to develop a Social Media app and raising the first stable audience, you must implement new features that can widen functionality horizons and bring a new user experience.
The Money-Making Mantra in Social Media Apps
Usually, the free versions have restricted features, and users are needed to pay extra to unlock the special features. Tinder makes money majorly through in-app advertisements, subscriptions, premium plans, and also in-app purchases, which enables them to change location, rewind the swipes, turn-off advertisements, etc. The other apps like Badoo, Bumble, Happn, Gleeden also jumped the bandwagon and started selling premium features to third-party products in-app ads.
Dating apps are getting popular at lightning speed and especially targeting Millennials and Gen-Z. The hope of getting a suitable date or a prospective future life-partner brings hoards of the digital age crowd on the dating app platforms. Lastly, these dating apps also have to continually engage the existing customers along with acquiring the new ones.
How Much Is It Going to Cost to Develop a Dating App?
Based on the app functionality and complexity, a basic dating app for either of the platforms (Android or iOS) can cost you USD 40-50K. Further, if you are intending to get the dating app working for both the platforms, the development cost may reach up to USD 90K or higher. In a nutshell, the more the features, the more the development cost will be. That is why you must set your goals and motives before you step into the market to search the right dating app development company.
The API design and integration of a dating application typically involve UI/UX designers, Android, iOS, and backend developers, QA engineers, and a project manager to keep the complete work in sync. It is easier to work with an app development company that has a full-fledged team of expert techies to take onto the project of your dream dating app rather than finding different experts and engaging them together. Leading IoT and tech company like Appikr has been an expert in executing such million-dollar projects and helping mobile dating apps in minimizing turn-around time and maximizing ROI.
As we have already discussed that the more the features, the higher the cost will be; one must keep a set goal of features that he/she wants to deploy in the dating app. Some of the basic features like sign up/ sign in, age restriction, interest scale, create/ edit profile, chat & notification, location setting, discovery setting, expression of interest, user display settings may cost collectively around USD 15-20K.
Apart from these to stay strong in the competition and have an edge over other dating apps, it has been quintessential for dating apps to have several unique features like image recognition and AI & ML based app development.
Your ideation can shape in reality only when you have a perfect app development partner, who can both with its expertise and experience can help you meet your goals and assure you of quality work delivery.
Words To Wrap Up
It's crucial to keep in mind that there is a good probability that your social app development project's cost estimates won't always be reached once you've decided to start working on it. Once more, a lot depends on the aforementioned elements. This is true of the many features that many social media app owners decide to add to their platforms during or after the app development process. To account for this risk, you must at the very least set aside more funds.