Tooter is a social media and news app established in July 2020 that's considered a perfect alternative to Twitter. Made in India, the app is getting adequate user attention in the market. People are calling it a "Swadeshi" social media and news app and are using it to stay updated on various national and international celebrity quotes and statements.
Company started its business operations with a website and soon developed its mobile app for Google Play. The mobile app is not available on App Store so far. But the iPhone users are free to use the web version of this social media app.
Besides, the Tooter app comes with many attractive features that are not at all inferior to Twitter and other news outlets. Indians are associating it with "Swadeshi Andolan 2.0" and are promoting the app exceptionally. The platform also got viral on Twitter and people started talking about it at the end of 2020. The app lets users post "Toots" just like "Tweets" on Twitter.
You can also upgrade to Tooter pro with a fee of Rs. 1000 per year and enjoy more features and benefits right away!
Things to Know About Tooter App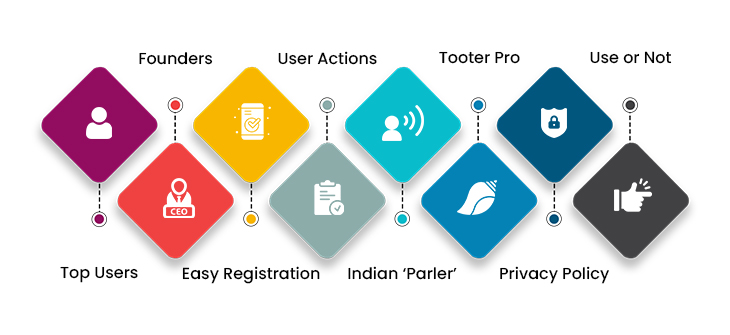 In this segment, we've mentioned some essential facts about Tooter that can facilitate your interest to use the mobile app in the future. Like Twitter, this application has also become popular among various Indian celebrities. Moreover, many of these celebrities download Tooter app and use it to enhance their social network appearance. Enlisted are the top things to know about Tooter:
1. Top Users
The App has just arrived in the social networking industry and influenced many Indian celebrities, sports stars, and politicians. The app is used by the honorable Prime Minister of the Country, Mr. Narendra Modi. Union Minister Amit Shah also uses the application and stays active to post regarding the latest cultural and national topics related to India and overseas. Moreover, film stars like Deepika Padukone and Amitabh Bachchan are also on Tooter.
2. Founders
The company is established by 2 co-founders- Naresh Vankayalapati and Rameshwar Rao Vankayalapat who are based in Telangana. The CEO of the company is Mr. Nanda and it is a South Indian Company. The co-founders have the technical expertise and work as an admin for their mobile app to manage both users and organizational access to the website. They take care of the Tooter app download and installation as well.
3. Easy Registration
The application provides easy registration to the users and leads to their interest and engagement. After you download Tooter app there's a simple registration process you should go through. The process doesn't take much time and you could become a free member of the Tooter family. In the registration section, you can fill up your Email Address, Username, and Password and reach out to a verification link to verify your sign-up.
4. User Actions
You can do multiple things on the platform just like on Twitter. It lets you follow renowned celebrity and politician accounts and share your opinion regarding their quiet and message. Or you can simply stay updated on their thoughts related to social and geopolitical issues. It also allows you to surf through the news feed and generate your Toots to influence and communicate with your social and professional groups.

5. Indian 'Parler'
Some users are calling it Indian Parler considering its political biases, but that's not true. Parler is an American social networking app alternative to Twitter and is known to be biased toward Donald Trump, their party members, and their political ideology. In India also, the users are calling Tooter to be a mobile app promoting the right-wing ideology and it has affected Tooter app download to some extent. Still, people don't believe it which resulted in 10K+ downloads.
6. Tooter Pro
The pro version is available to serve the premium audience. It comes with better features and retains the user interest for longer. However, the users have to purchase a yearly subscription to the Tooter app to enjoy these features. The subscription price is Rs. 1000 and you can use the following features likewise- Schedule Posts, Create Groups, Get Verified, Upload Large Images and Videos, Remove In-Feed Promotions, PRO Badge, and more.
7. Privacy Policy
The company promises to maintain security regarding the user account and data unless ruined by a court order. However, the court also doesn't intervene until there's an emergency case. Similarly, the terms of service suggest that all the matters related to the website, corresponding disputes, and claims should be taken care of considering the internal State Legislation. So, the users and app owners can claim whatsoever fits their rights accordingly.
8. Use or Not
It completely depends on the user's choice about going with an emerging social networking company or sticking to the old option available in the app market. Tooter is a perfect app as per user experience and reviews so far. However, it could come with some disadvantages in the future. You may install the Tooter app and analyze your experience accordingly.
Ending Note
Social networking apps like Tooter can transform the future of social integrations among local users and political enthusiasts. Hence, Tooter app is anticipated to perform extra-ordinarily in the future mobile app market. You can make a better opinion by using the application once. So, install Tooter today and enjoy!